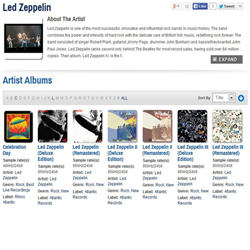 New York, NY (PRWEB) June 06, 2014
HDtracks, the leader and pioneer in high resolution audio digital downloads, is proud to announce a major milestone in both rock and high-resolution music – the release of the much-anticipated reissued and remastered Led Zeppelin albums, including the deluxe edition of Led Zeppelin, Led Zeppelin II and Led Zeppelin III from Atlantic Records, with new live versions of songs, alternate takes and much more. In addition, HDtracks announced the release of remastered albums from rock legends Echo and the Bunnymen (Meteorites), as well as new and remastered releases from Camper Van Beethoven (El Camino Real), Meshell Ndeeocello (Comet, Come To Me), plus downloads from Creedence Clearwater Revival, Faces and Soundgarden. All HDtracks releases are available via DRM-free CD and DVD-Audio quality downloads at the highest possible bit/sampling rates.
HDtracks' The Audio Buzz.com (http://www.theaudiobuzz.com) blog offers music fans exclusive news items, insights and reviews from some of the best audio and music writers in the industry. Recent posts include an exclusive interview with Tori Amos about her latest release, as well information about the Led Zeppelin releases and the recent appearance of founder David Chesky on Fox Business News to discuss the audio industry and the Apple Beats acquisition.
As more companies release products with high-resolution playback capabilities, HDtracks will continue to expand its collection of great HD Audio quality music. During the last few weeks alone, HDtracks unleashed high-fidelity versions of classic rock staples such as Aerosmith's "Toys in the Attic," "Get Your Wings," and "Rocks," and Cream's "Goodbye," "Disreali Gears," and "Fresh Cream," as well as "Indie Cindy" from the influential Pixies.
HDtracks is fast becoming the preferred online music shop for discerning listeners who will settle for nothing but the very best quality sound, whether for classic rock, jazz, or contemporary artists. At HDtracks music lovers can enjoy their favorite albums in unprecedented audio quality, with a precision, clarity and depth that has been heretofore absent in the digital world.
About HDtracks.com
HDtracks.com is the world's leading digital download store for high-resolution music. Founded in 2008 by three-time Grammy nominee and highly respected record producer and musician, David Chesky, and his brother Norman, HDtracks.com created the high resolution audio format. They were the first to convince the major labels that there was a viable market in high resolution audio. Today, the company works with every major label and hundreds of independents and have led the way for hardware manufacturers to create new products for the ultimate enjoyment of high resolution audio.
David and Norman Chesky have produced more than 500 albums with highly acclaimed artists in classical, jazz, and world music, and established Chesky Records as one of the most respected audiophile music labels in the word. For more than twenty-five years, Chesky has been at the forefront of audio technology, having created the world's first 24-bit/96kHz recordings, 6.0 multichannel 24-bit/192kHz DVD-Audio Disc layout, 128x oversampled recordings, and Binuaral+ for 3D sound playback on both loudspeakers and headphones.
Press Contact:
Sara Trujillo
Trujillo Public Relations
917.295.5491