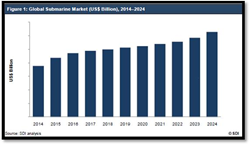 North America is expected to constitute 32% of the market during the forecast period with a total spending of US$88.8 billion.
United States (PRWEB) June 06, 2014
Global Submarine Market 2014-2024 is a new market report announced by Reportstack. The total global submarine market is expected to be cumulatively worth over US$281 billion across the forecast period. The market, which is estimated at US$19 billion in 2014, is set to rise by a CAGR of just under 5.20%, to just under US$32 billion by 2024. North America is expected to constitute 32% of the market during the forecast period with a total spending of US$88.8 billion. In spite of the budget sequestration measures, the US still has the highest spend in the sector and is almost equal to the spending in Asia-Pacific, which is the second largest spending region.
European nations are expected to cumulatively spend just under US$83 billion across the forecast period, and constitute just shy of 30% of the total submarine market. The rise of regional powers including India and China, with a strong desire for power projection, and growing regional tensions, coupled with maritime conflicts, will drive growth in the submarine sector in the Asia Pacific region.
Additionally, Asian countries are keen to develop indigenous submarines, which will drive further growth in the sector. It is expected that the cumulative spend by Asia in the sector will amount to just under US$88 billion, of the total market. Brazil and Argentina are the main spenders in the submarine sector in Latin America, and the countries in the region are expected to cumulatively spend US$12 billion.
This report offers detailed analysis of the global submarine market with market size forecasts covering the next ten years. This report will also analyze factors that influence demand for submarines, key market trends and challenges faced by industry participants. Navantia S.A, Fincantieri, DCNS, Kockums AB, BAE Systems, Mazagon Docks, Hyundai Heavy Industries, Daewoo Shipbuilding and Marine Engineering (DSME), PO Sevmash, Huntington Ingalls Industries (HII), General Dynamics Electric Boat Corp., Admiralty Shipyards, ThyssenKrupp Marine Systems AG, ASC Pty Ltd (ASC), Golcuk Naval Shipyard (GNSY), Mitsubishi Heavy Industries (MHI), Kawasaki Shipbuilding Corporation, Saab, Thales and Lockheed Martin Corporation are the companies mention in this report.
For more details on this report, please visit Global Submarine Market report.
Related Reports:
The Global Military Simulation and Virtual Training Market 2014-2024.
The Global Military IT, Data and Computing Market 2014.
Other sectors we cover:
Military GPS/GNSS
Biometric System
Homeland Security
Air Force
Armored Vehicles MRO
Body Armor and Personal Protection
Cyber Warfare
Military Satellites
Army
About Reportstack:
Reportstack is one of the leading distributors of market research reports in the world today. Reportstack provides access to over 50,000 company profiles and their strategic information like SWOT analysis, deals and partnerships analysis, merger & acquisition activity and new product launches. Reportstack is also a leader in the field of Military, Aerospace and Defense Market Research Reports.
Contact:
Debora White
Email: defenseresearch(at)reportstack(dot)com
Reportstack Market Research
Ph: +1-888-789-6604
United States