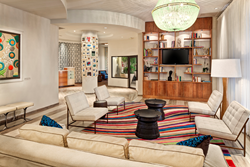 "We are very thankful for the Government's commitment to developing tourism in Haiti," stated Stanley Handal of Carabimmo SA.
Port-au-Prince, Haiti (PRWEB) June 05, 2014
After its first year in operation, the BEST WESTERN PREMIER Petion-Ville has become not only the first choice for business travelers visiting the country, but is also a top choice for locals to dine, host meetings and take a "staycation".
"We are proud of the commitment we have made to the local community through our charitable giving partnerships, creating employment opportunities in our community and supporting Haitian artists through our hotel's décor," said the properties Director of Marketing, Tamara Magloire. "Our commitment to providing our guests with warm, friendly Haitian hospitality, in a truly unique and beautifully designed hotel has earned us four and a half out of five star rating by our guests, the TripAdvisor Certificate of Excellence and the number one hotel ranking in the area," added Magloire.
The opening of the BEST WESTERN PREMIER Petion-Ville marked a milestone in the recovery of Haiti as a leisure and business destination. A 2013 report by the office of the Minister of Tourism regarding inbound travel to Haiti illustrates that the country's image as a business and leisure travel destination continues to improve.

Haiti has experienced a 20 percent increase in tourism year-over-year from 2012
On average in 2013, Haiti received 34,978 tourist a month
Almost 78 percent of tourists to Haiti are from North America (Canada, U.S. and Mexico) followed by France, Caribbean and Latin America.
"We are very thankful for the Government's commitment to developing tourism in Haiti and especially for Mrs. Villedrouin, Minister of Tourism, who for the first time really understands the need for exponential growth in the tourism sector. In addition, the improvements made in Haiti's security sector provides a real sense of confidence not only to our guests but also to us as investors and owners," stated Stanley Handal of Carabimmo SA. "When travelers arrive at the newly renovated Toussaint Louverture Airport in Port-au-Prince our Best Western Reward Members & Guests are welcomed and our shuttle service transports them directly to the hotel. We are now truly experiencing a HAPPY HAITI on the path to recovery," added Handal.
Recently Haiti released the official 2014 Happy Haiti video. Sponsored in part by the BEST WESTERN PREMIER Petion-Ville, the video highlights the beauty of Haiti and its people. To view the video go to: https://www.youtube.com/watch?v=-YyTR4x4TFg&feature=youtu.be
In celebration of its one year anniversary, the BEST WESTERN PREMIER Petion-Ville is offering a number of specials including a World Cup package for local residents and a Haitian Heritage package which offers a taste of Haitian art, culture and history including a tour of Port-au-Prince's main attractions. The property is home to one of the best restaurants in Haiti, Le'Michel, Whiskey Bar where guests can enjoy a relaxing libation and Oxygene, a full service spa. The 106 room hotel offers a range of accommodations from Superior guest rooms and Junior Suites to the Imperial Suite and amenities including, complimentary WiFi, a 24 hour fitness center, an outdoor pool and meeting/event space for up to 200.
One of Haiti's largest annual events, Carnaval des Fleurs (Carnival of Flowers), is this summer July 28 – 30, 2014. The festivities take place all around the capital city of Port-au-Prince with events leading up to Carnaval. This colorful and festive annual event features music, dance and art and draws tourists from around the globe.
For more information or to make a reservation visit bestwestern.com.
ABOUT BEST WESTERN INTERNATIONAL, INC.
Best Western International, Inc., headquartered in Phoenix, Ariz., is a privately held hotel brand made up of more than 4,000* BEST WESTERN®, BEST WESTERN PLUS® and BEST WESTERN PREMIER® hotels in more than 100* countries and territories worldwide. Now celebrating 68 years of hospitality, Best Western welcomes hundreds of thousands of guests nightly. Best Western provides its hoteliers with global operational, sales, marketing and promotional support, and online and mobile booking capabilities. More than 20 million travelers are members of the brand's award-winning loyalty program Best Western Rewards®, one of the few programs in which members earn points that never expire and can be redeemed at any Best Western hotel worldwide. The brand's partnerships with AAA/CAA and Harley-Davidson® provide travelers with exciting ways to interact with the brand. In 2013, Best Western earned our highest level of brand recognition, including our fifth AAA/CAA Hotel Partner of the Year award, second Compuware Best of the Web Gold award, fourth No. 1 ranking in Brand Keys Consumer Loyalty Engagement Index for midscale hotels and seventh TTG Asia Best Mid-range Hotel Brand. Forty percent of Best Western hotels worldwide won TripAdvisor Certificates of Excellence for customer satisfaction.
For more information or to make a reservation, please visit bestwestern.com.
*Numbers are approximate and may fluctuate.