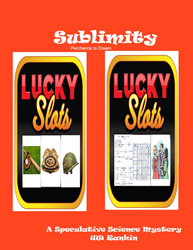 I felt a need to write. My father wrote poetry which he never published and I didn't want to miss the opportunity.
Austin, TX (PRWEB) August 27, 2014
Picture, if you will, a detective and a doctor - no, no, not Holmes and Watson but more of a Mr. Inside, a Doc Blanchard type, and a Mr. Outside, a Glenn Davis, in terms of personalities and world view. This Mr. Inside was an internationally acclaimed professor of mathematics at The University of Texas at Austin, and Mr. Outside was an Austin Police Department lieutenant. That pair, along with the professor's family physician, his new girlfriend, and a gaggle of teenagers embarked on a mission to solve a perplexing crime wave.
Neither adult male fits his astrological sign; one, a Sagittarius, long past his prime and under intense pressure to retire from the force, is the down-to-earth stickler for details, a man known for respecting the chain of evidence; while the doctor, also in his sunset years, a Taurus, has that scintillating intellect which surpasses all understanding.
Herein lays the tale of the efforts of that ragtag band to court justice or at least uncover a resolution to their perplexing problem, as well as the two men's friendship that initially blossomed at a sporting event, with its interlaced moments of vicissitude and exhilaration.
UW Rankin is a country boy. The big question is "Which country?" His father was half Native American, part Choctaw, part Chickasaw and half Scot-Irish, a man born in Indian Territory, now known as Oklahoma. UW's mother was a middle class Mancunian who drove ambulances during the German blitzkrieg of England. UW's parents met in a pub in Manchester, and had a torrid relationship that resulted in an only son born May 7, 1945. As a result, UW takes pride in helping end the Nazi scourge in Europe. His parents reunited in Palestine, Texas when UW was old enough to travel. The family planned to move to California, but the old Dodge they bought from a family friend broke down in Amarillo, Texas. That's where UW spent his formative years before attending The University of Texas at Austin. He met and wooed his wife, Sally, there and they had a son, Chris, and daughter, Jennifer. UW lives in that little blue dot to this day.
A hardcover version of Sublimity is available from Mira Digital Publishing: Click here. Sublimity is available in ebook format from Amazon: Click here.