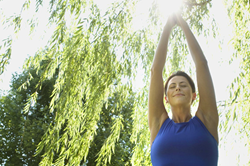 Health and wellness website ChangeYourEnergy.com is continuing with its successful run of Live Class this June
(PRWEB) June 06, 2014
Health and wellness website ChangeYourEnergy.com is continuing with its successful run of Live Class this June with new and returning instructors and classes.
Live Class is a line up of classes given by energy healing experts from various locations throughout.the U.S. Classes range from yoga, tai chi and meditation.
Although each class and instructor has its own pace and personality, all the lessons are designed around energy principles for awakening the mind and healing the body.
During each class, students have the opportunity to ask questions and otherwise interact with instructors via chat sessions.
Live Classes for the month of June begin on June 2, 2014 and offer at least five different live, online classes each week.
This month, Master Instructors include Chungsuk, who will introduce the Heart Meridian for his continuing meridian series, and Banya Lim who will continue to take her class in new directions with her class about going deep within the mind to sharpen inner knowing in her class Awaken Your Intuition which premiered last month, May 2014.
Aragorn, Jordan Diamond, Maureen Godfrey, Vladimir Ivzhich and Adahae Guadagni all return as Featured Instructors. Sandra Moreno will also be back with her Spanish language yoga class, Michelle Moon continues with her class Brain Wisdom and Jiu leads more weekly collaborative healing group meditation.
June will also present three new instructors with an eclectic mix of classes. Jaclyn will introduce Bird of the Soul, a class based on Ilchi Lee's latest book by the same name, Temani will discuss how to live a Holistic Life, Deanna will share her Hawaiian background to body wellness with Hula Dancing & Qigong, and Erin will bring us back to basics with Basic Yoga.
Find the full schedule and details for live classes at the Live Class main page.
About ChangeYourEnergy.com:
ChangeYourEnergy.com is an online resource for wellness and lifestyle articles, videos and blogs inspired by the teachings of life and energy scholar Ilchi Lee, a meditation and brain education leader.
Changeyourenergy.com offers accessible, around the clock guidance, inspiration and practical online training to enable people to realize and activate their full human potential. The site offers lifestyle tips, health and wellness articles, exclusive seminars and personal development coaching.