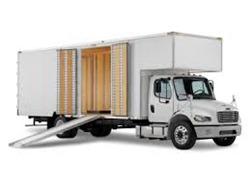 San Jose, California (PRWEB) June 05, 2014
England Van Lines have already announced their intention of adding numerous new services in the coming months. One service previously mentioned allows clients the option of upgrading servers, computers, and other electronic hardware using the computer engineers and IT specialists currently being hired. In order to save time, storage space, and money, the moving company is now offering clients the option of leaving the old technology behind, and instead uploading electronic data to the company cloud before arrival at the new location.
A company spokesperson commented on the new service. "Many San Jose movers are known for their technological innovations, and our branch of England Van Lines has remained at the top of the shortlist of innovators for some time now. Clients enjoy the variety of services offered by our location, and this cloud storage in addition to physical storage offsite gives them the option of saving money on transport by abandoning and selling their old servers while we replace them with new ones on the other side of the move. It's more convenient for them, and it's more convenient for us. Win-win."
Clients that don't take advantage of the cloud storage or server upgrades will still have the option of keeping their old servers online for the duration of the move. By using new technology to transform their fleet of moving trucks into mobile hotspots, the company uses electricity generated by solar panels and wind turbines to power the servers during transport without having to expend additional fuel.
Those who do take advantage of the cloud storage and server upgrades will have the ability to log in to the servers offered by England Van Lines. Because of these options, clients will be able to keep their online services active for the duration of the move, even as the brick and mortar location shuts its doors temporarily. Due to new procedures and technologies, this downtime is shorter than ever before.
England Van Lines will be releasing additional pricing details when they become available at the company website: http://EnglandVanLines.com/. Other San Jose movers have noticed the speed at which England Van Lines are adapting and innovating, and focus groups being run by industry specialists report that clients at other companies are noticing the changes. The Moving Authority currently ranks England Van Lines in the 95th percentile of top movers in the region.
Press:
William Alexander
England Van Lines
(888) 485-2201