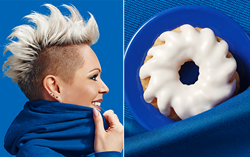 The way this video has taken off is a true testament to the power of a great creative idea.
Springfield, MO (PRWEB) June 06, 2014
Missouri foodservice marketing agency deep, part of The Marlin Network, were the minds behind the "Donut Double" campaign with a quirky video and online quiz, which has been featured in top online publications such as Fast Company, The Huffington Post and the St. Louis Egotist.
Made in collaboration with Bruton Stroube Studios and Strange Donuts in St. Louis, the Donut Double video started out as a creative concept for an invitation to a client appreciation event in Chicago and turned into an internet sensation—just in time for National Donut Day June 6.
"The way this video has taken off is a true testament to the power of a great creative idea," said Dan Stewart, partner and creative director at deep. "We developed this campaign for a very small, niche audience on a tight budget, and in the end, it has resonated with people everywhere in a way that we never could have planned for or anticipated."
The video showcases six different donuts and their real-life human doppelgängers and has garnered nearly 50,000 views and counting. Accompanying the video is a personality quiz for participants to find their donut double. Currently, 5,000 people have found their donut match using this online quiz. At the client appreciation breakfast in May, attendees were able to "meet" their donut look-a-like by building a culinary creation from the decadent breakfast bar.
"Working on this client breakfast invitation is always one of our favorite projects around the office because we can start with a blank slate," said Senior Interactive Art Director Daniel Green. "We work in the foodservice industry every day with our clients, so we know that donuts are a hot trend right now—along with personality quizzes—but we never imagined the success that this digital campaign has seen."
In the last 20 years, people from across the country have attended the client appreciation breakfast hosted by The Marlin Network in Chicago. Each year, the network selects one of its sister agencies to concept and execute the campaign for the invitation.
Two years ago, deep developed the video "Breakfast Interrupted" for the same event with similar viral results. The rights for "Breakfast Interrupted" was recently purchased for a national ad campaign for the Aria Resort & Casino themed, "This is How We Vegas." and in five short months, their version has garnered more than 50,000 views on Aria's YouTube channel.
To take the Donut Double quiz, visit doubledoubles.com. For more information on deep and their work in the foodservice industry with clients such as Nestlé Professional®, Lamb Weston®, Mission® Foodservice, Kerry® and Tyson Foods, Inc., visit deepgroup.com.
deep
Founded as a Marlin Network agency in 2005, deep is entirely employee owned and operated. The agency, which creates breakthrough campaigns for clients in the U.S. and around the world, was included as part of Marlin Network in Inc. Magazine's list of America's Fastest Growing Companies in 2010, 2011, 2012 and 2013. They remain the number one purchaser of foodservice media today. Marlin Network includes deep, The Alchemedia Project, Marlin, Marlin Network Consulting, STARAwards and FoodIQ. The agencies represent more than 70 major food and beverage brands. For more information, follow deep on Twitter, Facebook, Instagram and the b!eep blog or visit deepgroup.com.