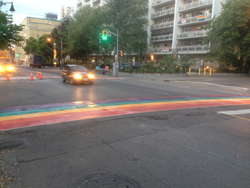 crosswalks will welcome visitors to WorldPride this summer, and will remain a permanent legacy of the event for years to come
Toronto, ONTARIO (PRWEB) June 05, 2014
Pride Toronto is pleased to announce the city of Toronto has installed rainbow crosswalks on Church street, in the heart of the LGBTTIQQ2SA* village, and positioned 250 WorldPride 2014 banners across the downtown core as a prelude to WorldPride 2014 Toronto.
Approved and funded by the City of Toronto, and installed this week, the rainbow crosswalks – located at Church & Alexander, and Church & Isabella intersections – will be permanent additions to the neighbourhood streetscape, a powerful symbol celebrating decades of pride celebrations by the city's LGBTTIQQ2SA* communities.
In partnership with the City of Toronto and a number of Business Improvement Areas (BIAs), 250 streetpole banners have been hoisted in key Toronto locations, including the Church-Wellesley Village, Lakeshore Village, Downtown Yonge, and Bloor-Yorkville, as well as around Nathan Phillips Square and Allan Gardens. For the month of June, these banners will welcome travellers from across the city and around the world for the first WorldPride event ever held in North America.
"Pride Toronto is thrilled that rainbow crosswalks will welcome visitors to WorldPride this summer, and will remain a permanent legacy of the event for years to come," said Kevin Beaulieu, Executive Director of Pride Toronto. "We appreciate the support of the City of Toronto for the project, as well as the BIAs for the streetpole banners, which will bring colour to the streets and celebrate the history and future of Toronto's LGBTQ communities."
As one of the most diverse cities in the world, with a long history of LGBTQ leadership, Toronto is home to Canada's largest LGBTTIQQ2SA* community. The banners and rainbow crosswalks funded by the City of Toronto reflect the hard work, support and cooperation fostered between city officials, Pride Toronto and the community.
"The City of Toronto is proud to be a part of the WorldPride Opening Ceremony and these imaginative marketing initiatives," said Chris Brillinger, Executive Director of Social Development, Finance and Administration. "In addition to our annual Major Cultural Funding Grant, the City has been working with local BIAs, Tourism Toronto and Toronto Hydro to show Toronto's commitment to diversity. Nothing tells an LGBT visitor – or a resident, for that matter – that you are accepted more than seeing the rainbow flag flying from our lamp poles."
ABOUT WORLDPRIDE 2014 TORONTO
WorldPride 2014 Toronto is an international celebration taking place from June 20-29, 2014 that incorporates activism, education, and the history and culture of global LGBTTIQQ2SA* communities. WorldPride 2014 Toronto is presented by Pride Toronto, producer of Canada's largest annual festival of LGBTTIQQ2SA culture and human rights, under license from InterPride.
Pride Toronto is the not-for-profit organization that hosts the city's Pride Festival, an annual event in downtown Toronto during the last week of June and one of the premier arts and cultural festivals in Canada. It is also one of the largest Pride celebrations around the world with an estimated attendance of over one million people. It celebrates the history, courage, diversity and future of Toronto's LGBTTIQQ2SA communities.
*LGBTTIQQ2SA is an abbreviation used to represent a broad array of identities such as, but not limited to, lesbian, gay, bisexual, transsexual, transgender, intersex, queer, questioning, two-spirited and allies.
For more information visit http://www.worldpridetoronto.com.