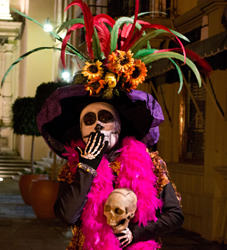 The workshop tour is led by internationally known and exhibited photographer-teacher Frank Hunter whose work is published in the New York Times.
Oaxaca, Mexico (PRWEB) June 06, 2014
There is no other place in the world where Day of the Dead is celebrated with such energy, ritual, magic and color than Oaxaca, Mexico. From October 27 to November 4, 2014, photographers of all levels, from those with no experience to hobbyists to aspiring professionals, can capture it all: the people, costumes, food, religious practices and pre-Hispanic mixed with Colonial tradition by joining the Oaxaca Day of the Dead Photography Workshop Tour.
Offered by Oaxaca Cultural Navigator LLC, this is a cultural immersion travel experience like no other. The workshop tour is led by internationally known and exhibited photographer-teacher Frank Hunter whose work is published in the New York Times. Hunter taught in the Duke University Center for Documentary Studies for more than ten years. His teaching-coaching style is relaxed, organic, and spot-on. Participants learn to move easily from automatic to manual settings using their digital single-lens reflex (DSLR) camera. This results in taking outstanding shots at night, sensitive portraits of individuals and families, and street-life energy. The workshop focuses on using light, composition, and editing tools to produce better photos.
In addition to attending the Day of the Dead festivities on the streets of Oaxaca and at the famed Xoxocotlan Cemetery, a special feature of the workshop tour is a three-day stay in the Zapotec Village of Teotitlan del Valle where paired participants will spend November 2 with a local family to personally share the celebration. Villagers send their loved ones back to their graves, accompanying them to the cemetery after a sumptuous meal, to ensure they will rest easily for another year. Participants join in this tradition and are invited to take photographs as they are embedded with their host family.
Included in the Day of the Dead workshop-tour are daily instruction and feedback sessions, visits to local markets and archeological sites, and plenty of time for independent exploration. In Oaxaca, the group stays in a top-rated, centrally located colonial-style hotel close to the Zocalo and all the action. Teotitlan del Valle, a family-operated guesthouse, serving delicious home-cooked meals, welcomes participants.
Oaxaca Cultural Navigator LLC has produced small group, low impact arts and cultural immersion educational programs in Mexico since 2006. Hundreds of people have attended creative writing and yoga, textile design, weaving, natural dyeing, art history, cooking, jewelry making, painting, photography and documentary video programs. Private customized group programs are available.
For complete program descriptions and itinerary, see the Oaxaca Cultural Navigator LLC website at http://oaxacaculture.com or contact owner/manager Norma Hawthorne at oaxacaculture(at)me(dot)com.
Media Contact: Charlotte Novom | Novom Marketing, Inc. | 714.941.9799