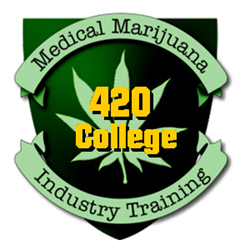 Los Angeles, Ca (PRWEB) June 07, 2014
In the wake of U.S. House voting to defund DEA medical marijuana raids in MMJ states, medicinal marijuana has become an even a hotter topic, especially in California. However, as legalization and decriminalization continues to spread across the nation, headlines and concerns frequently focus on the business end… rightfully so, but what about the actual product?
Two California powerhouses are teaming to address the subject of quality cannabis cultivation head on, as Los Angeles based 420 College joined forces with Mike Boutin, a notable star of Discovery Channel's "Weed Country". Coming together in the state's capital Sacramento May 31st, was the first time and put together an incredible workshop for the people. Together they intend provide an all-encompassing cannabis cultivation workshops, sharing techniques and tips for all attendees.
As anyone in the cannabis industry will tell, cultivation is a crucial component. Producing the proper plants can make or break a cannabis business, and in this day and age, the science behind the scenes involves much more than simply water and sunlight.
Mike Boutin's roots in the exploration of marijuana cultivation go far deeper than anything reality TV can capture. As a master grower with 30 years of experience, his knowledge and passion towards the plant is extensive.
Since the passage of Proposition 215 in California in 1996, cannabis advocates that run 420 College, have been pushing cannabis businesses to the forefront as a legitimate and lucrative business in the U.S., and during that time, the methods of cultivation have grown along with it. Today we find a range of strains developed for specific applications, a process, which has taken horticultural science to new, exacting levels.
The experienced cannabis experts and attorneys that form 420 College have spent the last 5 years, assisting hundreds of individuals and collectives successfully enter the medical marijuana industry. Together with Boutin, this one-off forum is orientated toward those wishing become experts to perfect their plants, with some rarely shared insider knowledge.
On June 28th, Mike Boutin will be trekking down from the Emerald Triangle, and presenting for 420 College in Southern California. Interested parties are welcome to join in on this educational venture.
Company Info - 420 College is a California based collaboration of attorneys and experts, with the goal to provide all-inclusive instructional seminars to guide entrepreneurs of all level through the maze of medical marijuana regulations and requirements.
Contact - (323) 308-8803 http://420college.org