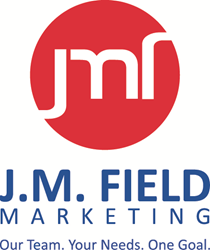 Fort Lauderdale, FL (PRWEB) June 09, 2014
J.M. Field Marketing, a full service South Florida based marketing firm, is proud to have assisted a leading cup manufacturer with the production of their trade show booth design to showcase products including various sizes of hot and cold cups, popcorn tubes, soup containers, cup sleeves, French fries cups, paper liners, cone cups and flat/dome lids.
By using a custom combination of stock hardware, the team at J.M. Field Marketing was able to provide an effective trade show booth design concept, complete with templates and printing services that both kept costs low and increased the ease of assembly for the booth. The provided templates were used by the cup manufacturer to create and submit their artwork for final approval by J.M. Field Marketing, who ensured that high quality images and graphics were used.
"The objective for this particular booth was to provide a compact, lighter weight display that was both easy to assemble and provided a merchandising and monitor display solution," said Joni Kullgren, Senior Design Manager. "During the process, we worked closely with the client and thoroughly checked to ensure that their artwork was up to its full potential."
This new trade show booth design replaced an older booth that J.M. Field Marketing also assisted with in 2012. In addition to providing help with trade shows, J.M. Field Marketing has conducted branding design, web design/coding, product photography, and printing for past projects with this particular cup company.
To see how J.M. Field Marketing can help your business with our various services, please visit http://www.jmfieldmarketing.com/.
About J.M. Field Marketing
J.M. Field Marketing offers a seamless integration of marketing solutions, from design and printed collateral to marketing materials, product fulfillment, web-based inventory management, data collection, inventory systems and call center services. The company's mission is to work as a direct extension of its clients' brand – providing the services every business needs to help increase revenue in today's competitive market. With over 205,000 square feet in storage capacity, J.M. Field Marketing's pick and pack services provide assistance and advantages to our clients in materials production, online order processing and web-based inventory management. J.M. Field Marketing's clients include the banking industry, travel industry, entertainment industry, security industry, hair care products and more.