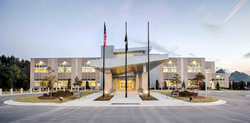 This project represents the best 'one company' effort I believe we've had in the history of the company." Thomas F. Gilbane Jr., Chairman and CEO of Gilbane Building Company
Durham, NC (PRWEB) June 06, 2014
Gilbane Building Company, a national leader in construction management, announced the VA Health Care Center project team, located in Greenville, NC has earned Gilbane's prestigious Iver Johnson Builders of the Year award. The award is given annually to one of Gilbane's project teams based on a number of criteria including: quality, safety, client satisfaction, teamwork, MBE/WBE participation and reaching sustainability goals. Each year more than 300 projects globally are eligible.
This year's award-winning project not only finished on time and was also a Design Build, Leaseback facility constructed in just 24 months. Throughout the scheduling process, Gilbane used numerous lean scheduling techniques to ensure on-time delivery of the building. The project was delivered through an IPD concept in partnership with the BBH Architect design team, Gilbane Development Company, Gilbane Building Company, Veterans Affairs & specific Design Assist Trade Contractors.
"As a thirty plus year veteran of Gilbane, I understand the magnitude and honor of this award," says Robert Crowder, Gilbane Vice President. "I am very proud of this team and pleased that we could deliver this amazing facility to the veterans of our state who truly deserve the highest level of service and care."
"This project represents the best 'one company' effort I believe we've had in the history of the company," stated Thomas F. Gilbane Jr., Chairman and CEO of Gilbane Building Company, "The success of the VA Health Care Center construction clearly relied on the innovation and collaboration of the Gilbane team, which included both Gilbane Building Company and Gilbane Development Company."
Currently the largest VA health care facility in North Carolina, the completed project includes 149,000 square feet and 475 surface parking spaces, and will support a full range of specialty and ancillary services for up to 20,000 Veterans in eastern North Carolina. Services will include Audiology, Cardiology, Orthopedics, Radiology, Pharmacy, Dental Care, Minor Procedures, Women's Health, Eye Care, and many others. The project is certified LEED Silver.
To get a sneak peek into the facility click here: https://www.youtube.com/watch?v=dNSidqFkILU&list=PLaGpkB_o6yMBGXZVjNs38aOjSHZT0XsHF
About Gilbane Building Company
Gilbane provides a full slate of construction and facilities-related services-from sustainable building to the latest in construction technology-for clients across various markets. Founded in 1873 and still a privately held, family-run company, Gilbane has more than 50 office locations around the world. For more information, visit http://www.gilbaneco.com.