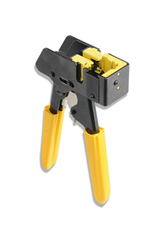 Watertown, CT (PRWEB) June 06, 2014
Siemon, a leading global network infrastructure specialist, today announces Round 2 of their $1500 MAX TurboTool Challenge. This contest challenges cabling contractors to test their skills against fellow cabling pros to see who can perform the fastest category 6 termination using Siemon's innovative MAX TurboTool.
Developed specifically for contractors and cabling professionals, the new MAX TurboTool significantly reduces termination times for Siemon category 5e and 6 UTP MAX outlets. Unlike traditional single conductor punchdown tools, the MAX TurboTool simultaneously seats and cuts all eight cable conductors simultaneously, allowing a four-pair MAX UTP outlet to be terminated in a single action for increased productivity and reduced hand fatigue.
In Round 1 of the MAX TurboTool Challenge, contractors from across North America sent in videos with their fastest times and when the dust settled, Alberto Luna of Total Network Consulting in Snellville, GA took home the $1000 prize with a world record MAX 6 termination time of just 24.18 seconds. You can see his actual video entry at http://www.siemon.com/maxturbotool/challenge/.
In Round 2, the contest is going global, giving cabling pros a chance to compete with the best installers in the world. The fastest time wins $1000, and if the winning entry is faster than the 24.18 second world record, the top prize increases to $1500.
Contest entry is easy. Contractors simply need to record a video on their smart-phone of their fastest MAX TurboTool termination and email it to challenge(at)siemon(dot)com. Full contest details, rules, and instructions are posted at: http://www.siemon.com/maxturbotool/challenge/.
The MAX TurboTool Challenge is open to cabling contractors only and ends on August 31, 2014.
For more information on Siemon's innovative, time saving MAX TurboTool, including how you can get a free tool, please visit: http://www.siemon.com/turbotool/.
###
About Siemon:
Established in 1903, Siemon is an industry leader specializing in the design and manufacture of high quality, high performance low voltage infrastructure solutions and services for Data Centers, LANs and Intelligent Buildings. Headquartered in Connecticut, USA, with global sales, technical and logistics expertise spanning over 100 countries, Siemon offers the most comprehensive suite of copper and optical fiber cabling systems, cabinets, racks, cable management, data center power and cooling systems and Intelligent Infrastructure Management solutions. With over 400 patents specific to structured cabling, Siemon Labs invests heavily in R&D and the development of Industry Standards, underlining the company's long-standing commitment to its customers and the industry.
Press Contact:
Brian Duval
Marketing Communication Manager
Siemon
101 Siemon Company Drive
Watertown, CT 06795
Phone : (1) 860 945-4380
Fax : (1) 860 945-8503