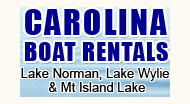 Carolinaboatrentals.net is now offering Lake Norman jet ski rentals and pontoon boat rentals. More information is available on their website at http://www.carolinaboatrentals.net.
Lake Norman, NC (PRWEB) June 05, 2014
Carolina Boat Rentals, long known as the largest provider of boat rentals on Lake Norman, is now renting jet skis and wave runner rentals as well. Carolina Boat Rentals has the biggest selection of boats for rent and their complete rental fleet can be viewed online at http://www.carolinaboatrentals.net.
Carolina Boat Rentals is located one half mile from the entrance to Ramsey Creek Park in Cornelius, North Carolina. All rentals are on an appointment basis with waverunners available by the hour and pontoon boats by the full day and half day. Carolina Boat Rentals provides all users with instructions to ensure safe operation of all watercraft. The friendly crew at Carolina Boat Rentals will also provide each passenger with life jackets, maps of the lake, and assistance launching the boats into the water.
For more information or to place a reservation for a Lake Norman boat rental, please visit carolinaboatrentals.net or phone them at (704) 614-2118.