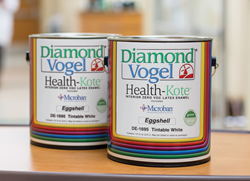 (PRWEB) June 06, 2014
Volatile Organic Compounds, commonly referred to as VOCs, are both human-made and naturally occurring chemical compounds that readily evaporate into the air. Some VOCs harm the environment and contribute to poor indoor air quality. For thirteen years, Diamond Vogel's Health-Kote Interior Zero VOC Latex Enamel has provided long lasting, durable protection without VOCs. When combined with Diamond Vogel's zero VOC colorant system, Health-Kote offers a true zero VOC solution for your home, school or business. Now, Health-Kote Interior Zero VOC Latex Enamel's outstanding performance is further strengthened by adding Microban® Antimicrobial Technology providing non-stop cleanliness protection to the coating surface helping enhance Health-Kote's appearance over its lifetime.
"Health-Kote has long been part of our commitment to adopt cutting-edge technology to provide quality coating solutions," said Doug Vogel, Vice-President of Trade Marketing for Diamond Vogel. "Including Microban Antimicrobial Technology to further enhance the performance of Health-Kote is the next step in creating a revolutionary product for our customers." Microban Antimicrobial Technology inhibits the growth of bacteria, mold and mildew helping ensure the coating remains free of damaging stains and odors.
Diamond Vogel's Health-Kote Interior Zero VOC Latex Enamel has outstanding application characteristics and remarkable hide making it quick and easy to create a beautiful surface. It's available in flat, eggshell and semi-gloss gloss levels. Health-Kote Interior Zero VOC Latex Enamel is packaged in five gallon and gallon containers and is available at your local Diamond Vogel store. For more information, please visit http://www.diamondvogel.com/healthkote.
ABOUT DIAMOND VOGEL
Diamond Vogel is a manufacturer of high-quality paints and coatings based in Orange City, Iowa. Founded in 1926, Diamond Vogel provides coating solutions to the architectural, heavy-duty protective, industrial, traffic and powder coating markets. Painting contractors, homebuilders, property managers and homeowners count on Diamond Vogel for the expert advice and long lasting products their projects require. For more information about Diamond Vogel, visit our website at http://www.diamondvogel.com.
ABOUT MICROBAN
Microban International, Ltd. is a global technology and marketing company dedicated to enhancing high quality consumer, industrial and medical products with branded built-in protection from microbes. The Microban® brand is an important consumer trustmark for effective and long lasting antimicrobial product protection. Microban International licenses the Microban® global brand name, sells custom-engineered compounds, and provides a range of services, including regulatory and marketing support. Microban International is headquartered in North Carolina with operations in North America, Europe and Asia. For more information on Microban, please contact (704) 875-0806 or visit http://www.microban.com.