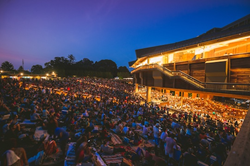 Vienna, Virginia (PRWEB) June 06, 2014
Pilobolus
Tuesday, July 1, 2014 at 8:30 p.m.
With sensual contortions and gravity-defying acrobatics, Pilobolus has been exhilarating audiences worldwide for over 40 years. The dance group was showcased during the 79th Academy Awards in 2007 and, since then, has leaped and tumbled to fame, landing features on Oprah, 60 Minutes, and Late Night with Conan O'Brien. The group collaborates frequently with celebrities and companies to create innovative artistic pieces. This includes partnering with the band OK Go and Google to create the Grammy-nominated interactive music video for "All is Not Lost." The company won the 1997 Primetime Emmy Award for Outstanding Achievement in Cultural Programming, and recently launched North American, Asian, Middle Eastern, and European tours to much acclaim. As The Philadelphia Inquirer says, "there are other companies that take art to extremes, but Pilobolus proves once more that it does it best."
Video: Oprah— "What Is Pilobolus?"
Crosby, Stills & Nash
Thursday, July 3, 2014 at 8 p.m.
Very few bands can claim their concert debut was at Woodstock, but Crosby, Stills & Nash have been establishing themselves as music legends since that fateful day in the summer of '69. Because each member was part of a successful band prior to the group's formation, they were dubbed a "supergroup" when inducted into the Rock and Roll Hall of Fame. In fact, each member of the group has been inducted twice, the first time with their respective prior bands (The Byrds, Buffalo Springfield, and The Hollies) and the second time with CSN. During their four decades of collaboration, the folk-rock group has released hits such as "Suite: Judy Blue Eyes" as well as successful independent albums, such as David Crosby's If Only I Could Only Remember My Name, Stephen Stills's self-titled album, and Graham Nash's Songs for Beginners.
Video: Crosby, Stills & Nash—"Southern Cross" (live)
Counting Crows
Toad The Wet Sprocket
Saturday, July 5, 2014 at 7 p.m.
Calling all rock fans for a night of inspired jamming by Counting Crows and a supporting performance by the alternative rock group Toad The Wet Sprocket.
Cited as "one of the finest American rock bands of the past 20 years" by The Washington Post, Counting Crows has created a distinctive sound that has enthralled audiences for over two decades. Dreadlocked lead singer Adam Duritz started the multiplatinum band with guitar player David Bryson in 1991, and the pair are currently joined by keyboardist Charlie Gillingham, lead guitarist Dan Vickrey, multi-instrumentalist David Immerglück, bassist Millard Powers, and drummer Jim Bogios. Their most recent release, a 2013 live album titled Echoes of the Outlaw Roadshow, is creating quite a buzz for their studio album due this fall. They were nominated for an Academy Award for their hit "Accidentally In Love" from Shrek 2, and performed the song at the 2004 ceremony.
After a decade-long hiatus, popular '90s band Toad The Wet Sprocket is bursting back onto the alt-rock scene with their 2013 album, New Constellation. The band, which comes from a farcical Monty Python sketch about a nonsensical rock band, was intended to be temporary, but the group found it so funny they decided to make it permanent. The quartet consists of Glen Phillips on guitar and lead vocals, Todd Nichols on lead guitar, Dean Dinning on bass guitar, and Randy Guss on drums. Hits including "All I Want" and "Walk on the Ocean" helped two of the band's albums reach platinum and one gold certification.
Video: Counting Crows—"The Rain King"
Video: Toad The Wet Sprocket—"Walk on the Ocean" (live)
American Idol Live! Tour 2014
Sunday, July 6, 2014 at 8 p.m.
With more than 700 million votes cast over the course of the season, the nation has chosen its 13th American Idol. The American Idol Live! Tour travels annually, a tradition since the first season, to showcase the talented up-and-coming singers featured on the wildly popular reality TV show. The 2014 tour features newly crowned Season XIII American Idol Caleb Johnson, alongside runner-up Jena Irene and top 10 finalists C.J. Harris, Jessica Meuse, MK Nobilette, Alex Preston, Dexter Roberts, Majesty Rose, Malaya Watson, and Sam Woolf. The budding artists' involvement with the tour frequently helps launch successful careers for both winners and finalists alike, and this year's crop of Idols look particularly promising: Entertainment Weekly raved that all the finalists, particularly the final pair, "have incredible potential in the music industry, winner or loser."
Tickets can be purchased by calling 1.877.WOLFTRAP or online at wolftrap.org.
For more information, call Wolf Trap at 703.255.1900.
Wolf Trap is Metro accessible!
Our environmentally friendly Wolf Trap Express Bus travels from the West Falls Church Metro stop every 20 minutes starting two hours prior to show time. For details, please visit wolftrap.org/Plan_Your_Visit/Access_by_Metro.aspx.
###