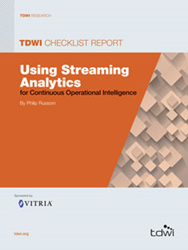 As Russom notes, 'OI is a new form of business analytics that delivers visibility and insight into business operations and similar processing as they are happening.'
Seattle, WA (PRWEB) June 05, 2014
TDWI Research has released its newest Checklist Report, Using Streaming Analytics for Continuous Operational Intelligence. The report explains the benefits and complexities of a perfect storm of desirable data types, software functions, and fast-paced business processes. The report reveals 8 best practices to help enterprises get the greatest value from analyzing data streams and explains the benefits of operational intelligence (OI).
TDWI's Philip Russom, the author of the report, explains that although a TDWI survey shows that half of user organizations are managing and leveraging streaming data, most of these organizations are simply recapturing and storing streaming data for offline study. What organizations must do is improve their analytics by adopting real-time practices and technologies. "This would enable them to analyze streaming data as it arrives, then take immediate action for the highest business value," such as monitoring and maintaining networks and utility grids or identifying compliance and security breaches.
The "swelling swarm of sensors" that enables the Internet of things is also enabling greater data collection. With the growing consensus that analytics is the most direct path to business value, the question becomes: what is the best way to analyze this data? TDWI's Checklist Report dives into continuous analytics, complex event processing, and OI. As Russom notes, "OI is a new form of business analytics that delivers visibility and insight into business operations and similar processing as they are happening."
Among his best practices recommendations, Russom advises readers that they'll gain the greatest insights by making correlations across multiple streams and diverse data formats, and points out that OI practices assume that data will also be diverse in its latency.
Other best practices include:

Exploring data streams to discover activities and processes, not just data; OI concerns patterns and process discovery, not just data or stream discovery.
Using advanced analytics techniques to provide deeper insight, including high-performance data ingestion, continuous datastream mining, and continuous predictive analytics.
Taking a model-driven approach to developing event-driven streaming analytics.
Empowering your business users with self-service analytics.
Complementing existing BI and data warehouse infrastructure with a platform for streaming analytics.
The Checklist Report explores an enterprise's need for elasticity and for an architecture with flexible deployment options.
Russom challenges organizations to integrate their OI and streaming analytics solutions with their existing business intelligence and data warehouse infrastructure so they can enjoy the benefits of real-time analytics.
This research was sponsored by Vitria Technology.
How to Request the Report
For a complete copy of the report or to ask questions of the author, members of the press should contact Philip Russom at prussom(at)tdwi(dot)org. The report is freely downloadable by the public at http://tdwi.org/research/2014/05/checklist-using-streaming-analytics-for-continuous-oi.aspx; a short registration is required for those downloading a TDWI report for the first time.
About the Author
Philip Russom is a well-known figure in data warehousing and business intelligence, having published more than 500 research reports, magazine articles, opinion columns, speeches, Webinars, and more. Today, he's the TDWI Research Director for Data Management at The Data Warehousing Institute (TDWI), where he oversees many of the company's research-oriented publications, services, and events. Before joining TDWI in 2005, Russom was an industry analyst covering BI at Forrester Research and Giga Information Group. He also ran his own business as an independent industry analyst and BI consultant and was a contributing editor with leading IT magazines. Before that, Russom worked in technical and marketing positions for various database vendors. You can reach him at prussom(at)tdwi(dot)org, @prussom on Twitter, and on LinkedIn at linkedin.com/in/philiprussom.
About TDWI
TDWI, a division of 1105 Media, Inc., is the premier provider of in-depth, high-quality education and research in the business intelligence, data warehousing, and analytics industry. TDWI is dedicated to educating business and information technology professionals about the best practices, strategies, techniques, and tools required to successfully design, build, maintain, and enhance business intelligence and data warehousing solutions. TDWI also fosters the advancement of business intelligence and data warehousing research and contributes to knowledge transfer and the professional development of its members. TDWI offers a worldwide membership program, five major educational conferences, topical educational seminars, role-based training, on-site courses, certification, solution provider partnerships, an awards program for best practices, live Webinars, resourceful publications, and an in-depth research program. For more information, visit tdwi.org or follow us on Twitter @TDWI.
About 1105 Media
1105 Media, Inc., is a leading provider of integrated information and media in targeted business-to-business markets, including specialized sectors of the information technology community; industrial health, safety, and compliance; security; environmental protection; and home healthcare. 1105's offerings span print and online magazines, journals, and newsletters; seminars, conferences, and trade shows; training courseware; and Web-based services. 1105 Media is based in Chatsworth, CA, with offices throughout the United States.
###
Media Contact:
Philip Russom, TDWI
prussom(at)tdwi(dot)org; (781) 862-2880