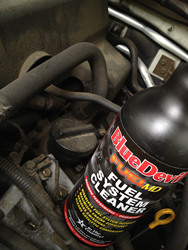 Charleston, SC (PRWEB) June 06, 2014
Routine maintenance of a vehicle is crucial to keeping its performance levels high as mileage starts to add up over years of driving. Oil changes, tire rotations and flushing a radiator are all common services that should be performed regularly. Another service which is as simple as "Pour-N-Go" is the addition of a fuel additive like BlueDevil FUEL MD: Fuel System Cleaner. In this seventh video of the eleven part series, former BlueDevil Products driver Ham Morrison is back in the garage, this time discussing the benefits of routine fuel system maintenance. The new video is posted here on the company's YouTube channel along with the six previous "Product Spotlight" videos, customer reviews and many user videos!
BlueDevil Fuel System Cleaner will remove fuel deposits while increasing a vehicles performance. FUEL MD also improves gas mileage, fuel efficiency, vehicle start up, & will restore a consistent engine idle while lowering its fuel octane requirements. Utilizing FUEL MD will keep your system clean and running smooth!
"It's a GREAT product," states Troy Porcelli, Vice President of Operations at BlueDevil Products. "We've had great success selling it online and to local shops in our area. We're hoping it hits shelves across the US very soon in national retailers everywhere!"
Since 1997, BlueDevil Products has become a serious competitor in the automotive aftermarket with its complete line of chemical solutions. From cracked head gaskets and radiators, to oil pans and transmissions, BlueDevil Products manufactures quality sealants for various repair options in automotive systems.