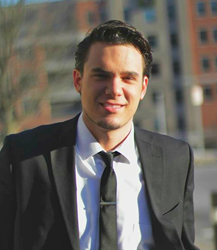 I rented office space for $500 month, had a small team of friends and started working
Saratoga Springs, NY (PRWEB) June 10, 2014
Many college-age students struggle to decide on their dream career, but not for Steve Salvi.
Salvi quotes he started his first company during high school in 11 grade. "I rented office space for $500 month, had a small team of friends and started working. At the time we had little to no resources, which resulted in our failure. Really, it's hard starting a successful business in high-school." Salvi says that did not stop him from pursuing his dream.
Currently leading Global Pop, a holding company located in Upstate, NY. Salvi opened his LLC after he completed high-school and has been persistent since day one, "When I graduated, I started an LLC and got to work. Networking is huge in this business. I found resources and I used them."
A few years later, Global Pop owns 2 subsidiaries. One of them, Lacerta Coding, a tech company that designs mobile, web and software applications for businesses. Lacerta also provides SEO and web hosting services.
Salvi says "I am confident of the quality in our work, we have a team of over 450 programmers partnered with our company. Our team has designed applications for hundreds of businesses."
Salvi said he has faced many failures along the way but this is not the end.
"There is still a lot to accomplish, I have big goals. I want to create jobs and I want to help people."
For more information on Lacerta or its progress go to LacertaCoding.com