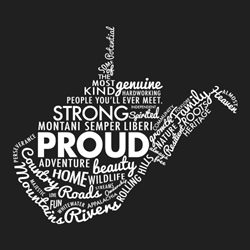 I always wanted a reason to come back, but a reason that would help the state. - SustainU Founder/CEO Chris Yura
(PRWEB) June 19, 2014
Pride in their state. It's one of the first things people notice about West Virginians. SustainU founder and CEO, Chris Yura, certainly knows the feeling. Yura is a native of West Virginia who moved away to pursue a career in the fashion industry.
However, Yura says that West Virginia has "always called to me from my soul" and that he wanted to come back to the state. His plan was to start a clothing company with a conscience and build a business that reflects many of the values and attributes of West Virginia. SustainU accomplishes this with local manufacturing and 100% recycled products. Yura says, "I always wanted a reason to come back, but a reason that would help the state."
A recent campaign launched by West Virginia Public Broadcasting asked state residents why they chose to remain in West Virginia. This campaign inspired Yura to create a t-shirt design that expresses why he came back to, and chooses to stay in, West Virginia.
The unique "Why I Stay" t-shirt design is composed of words that form the unmistakable shape of West Virginia. The shirt represents the foundational qualities of the state with words like adventure, genuine, strong, and growth. These words were the backbone of the state in its formative years.
SustainU staff member Patrick Adrian says, "For those who are from West Virginia, they know its a special place with great people. There's much untapped potential here."
For more information about SustainU, and to check out the "Why I Stay" t-shirt, visit http://www.SustainUClothing.com.