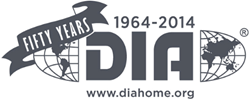 Washington, DC (PRWEB) June 05, 2014
In a drug development landscape where clinical trial sponsors must find ways to gain value from limited research budgets, risk-based monitoring — the strategic assessment of risk when creating and conducting trials — is emerging as a model for reducing the complexity of a study while enhancing patient safety and saving time and money. Sessions at the DIA 2014 50th Annual Meeting, June 15 to 19 at the San Diego Convention Center, will feature the top experts in industry and research exploring practical approaches to building a risk-based monitoring system to enhance a trial's effectiveness.
The "Risk-Based Monitoring Symposium," to be held on June 18 at 10:30 a.m., will bring together industry experts to offer insight about the changing role that clinical research associates will play in clinical trials, along with practical approaches to building a risk-based program. Marcus Thornton, senior director of clinical trial management systems at Medidata Solutions, will lead the discussion, highlighting models for collaboration between data managers and clinical research associates that optimize trial performance and capture higher-quality data at a lower cost.
The day before, on June 17 at 10:30 a.m., the "Risk-Based Monitoring: From Concept to Practice" forum will bring together industry experts to examine how to adapt internal processes and work with third-party providers when implementing risk-based monitoring in trials. Nicholas Alp, vice president of drug development services at ICON, will join industry experts from Pfizer, Eli Lilly and Co. and Bristol-Myers Squibb to discuss both the benefits and challenges of risk-based models and approaches to centralized, off-site and on-site monitoring of trials.
Amita Malik, senior product strategist at Oracle Health Sciences, will facilitate the "Risk-Based Monitoring: Where We Are and Where We Are Headed" session on June 19 at 10:45 a.m. Top industry and research professionals will discuss how recent Food and Drug Administration guidance provides an opportunity for trial sponsors to reduce the amount of verification documentation and define the critical steps to develop and implement guidelines for a successful risk-based monitoring strategy.
ABOUT DIA: DIA is the global connector in the life sciences product development process. Our association of more than 18,000 members builds productive relationships by bringing together regulators, innovators and influencers to exchange knowledge and collaborate in a neutral setting. DIA's network creates unparalleled opportunities for the exchange of knowledge and has the interdisciplinary experience to prepare for future developments. DIA is an independent, nonprofit organization with its global center in Washington, D.C., USA, and regional offices covering North and South America (Horsham, Pa., USA); Europe, North Africa and the Middle East (Basel, Switzerland); and Japan (Tokyo), India (Mumbai) and China (Beijing). For more information, visit http://www.diahome.org.
ABOUT DIA's 2014 50th ANNUAL MEETING: Celebrate the Past – Invent the Future is the largest multidisciplinary event that brings together a community of life sciences professionals at all levels and across all disciplines involved in the discovery, development and life cycle management of medical products. The meeting aims to foster innovation that will lead to the development of safe and effective medical products and therapies for patients. For more information, visit http://www.diahome.org/dia2014.