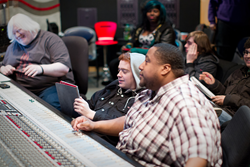 Edina, Minnesota (PRWEB) June 06, 2014
Minneapolis Media Institute (MMI) invites potential students, families and friends to attend the Open House on Saturday, June 14th from 10am to 2pm. Campus is located at 4100 W. 76th Street, Edina, Minnesota 55435.
Visitors will be taken on a tour of campus and allowed to test out the professional grade recording studios, game art and animation labs and their software; Maya Autodesk, ZBrush, or the Unity Game Engine, use the Cintiq monitors in the graphic design lab to draw in Adobe Photoshop, and the Motion Capture suite.
Instructors, Program Chairs, and staff will be on hand to answer any questions about career placement, financial aid, student services, or questions regarding Minneapolis Media Institute programs; Recording & Music Technology, Digital Art & Design, Game Art & Animation, Business in Media, or Mobile Application Development.
Established in 2009, Minneapolis Media Institute (MMI) specializes in media career training through hands-on work utilizing cutting-edge equipment. MMI offers Associate Degrees in Digital Art & Design, Game Art & Animation, Recording & Music Technology; Bachelor of Science Degree in Business & Media; and Certification in Mobile Application Development. Our curriculum and facilities are continually upgraded to coincide with developments made in media technologies and communications.
Minneapolis Media Institute is accredited nationally by the Accrediting Commission of Career Schools and Colleges. For more information about Minneapolis Media, please visit http://www.mediainstitute.edu.
To register to attend this event, visit the website: MMI OPEN HOUSE REGISTRATION.