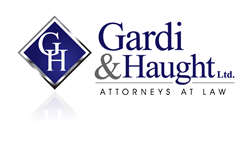 "More parties bring increased opportunities to get behind the wheel under the influence, but one bad decision can lead to an immediate loss of driving privileges."
Schaumburg, Illinois (PRWEB) June 10, 2014
Summer is a time for celebrations, but at the law firm of Gardi & Haught Ltd., it is also a time of increased DUI (Driving Under the Influence) cases.
"More parties bring increased opportunities to get behind the wheel under the influence," said Martin LaScola, attorney at Gardi & Haught law firm in Schaumburg. "but one bad decision can lead to an immediate loss of driving privileges."
Currently, first-time DUI offenders in Illinois with blood alcohol levels meeting or exceeding the .08 legal limit lose their ability to drive for the first 30 days of their automatic, six-month statutory summary suspension. "A DUI attorney can file a petition to rescind the summary suspension," he said. "If unsuccessful, the accused can drive after the first 30 days under a MDDP (Monitored Device Driving Permit) with a BAIID (Breath Alcohol Ignition Interlock Device) installed at their expense. If successful in challenging the suspension, the motorist will not need the MDDP or BAIID. However, it is increasingly difficult to get suspensions rescinded," said LaScola.
DUI laws also apply to prescription and recreational drugs. It is a driver's prerogative to refuse breath, urine, or blood tests that are requested by the arresting officer, but the license suspension period is longer if they do. "However, doing so can make the case more defensible if it proceeds to trial," said LaScola.
DUIs incur legal fees, court costs, and vehicle seizure/tow fees that vary from $500 in the suburbs, up to $2,100 in the City of Chicago to get the car out of impound. Second-time DUI convictions become public record (because these offenders are ineligible for Court Supervision). If the motorist gets his/her driving privileges restored, the insurance company could drop their coverage, forcing the driver to obtain expensive, high-risk insurance.
"Regardless of the specifics of the DUI arrest, immediate, experienced legal assistance is key to restoring your driving privileges," said LaScola.
About Gardi & Haught, Ltd.
Gardi & Haught, Ltd. is a law firm concentrating in real estate law, litigation, immigration, divorce, estate planning and corporate law. Founded by Hiten R. Gardi and Thomas E. Haught in 2003, the firm is located at 939 N. Plum Grove Rd., Ste. C, Schaumburg, IL. Learn more at http://www.gardilaw.com or call 847-944-9400.
###