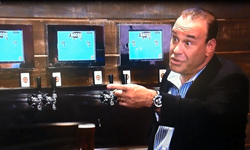 PourMyBeer challenges Seattle restaurants and bars to embrace technology...so that levels of service and quality of experience are not only maintained but improved.
Philadelphia PA (PRWEB) June 06, 2014
PourMyBeer, North America's leader in self-serve draft beer technology today delivered a solution to Seattle restaurateurs reeling from the announcement of a minimum wage hike soon to roll out in the city, threatening jobs and businesses.
Responding to an announcement this week that Seattle has voted to increase the minimum wage to $15.hr over the coming years, Declan Duggan, Owner and Co-Founder of PourMyBeer, a Philadelphia based innovator in self serve draft beer technology, insisted that the only way for bars and restaurants to maintain service and staffing levels while making a profit is to embrace innovation. "As a restaurateur you are faced with cost increases from all angles, from rising insurance and food costs due to changing weather patterns causing property damage and crop shortages. Or, in the case of larger chains, preparing to cover looming healthcare costs for employees. For many businesses the cost prove too much and they can no longer operate," according to Duggan who was been working with these businesses for the last 18 years.
There is however a huge opportunity currently brewing: the rising consumer demand for more varied and better beer choices which has resulted in the craft beer explosion nationwide and the proliferation of breweries and brew pubs now in existence and opening up the opportunity to increase beer sales significantly.
According to Duggan, most bars and restaurants simply are not ready to deal with this demand with the average bar realizing about 23% in waste, giveaway, free samples and theft behind the average bar with draft beer.
This could mean that an increase in business could be offset by increased costs and losses if not managed correctly.
"The PourMyBeer self serve draft beer systems which were recently approved for use in Seattle and the greater Washington state (as well as most of the continental US) remove waste at the source while staff can focus on delivering better service. When they are not pouring beer and wine, then your business wins and you are more profitable," said Duggan.
Bar industry adviser Barry Chandler agrees: "the bar and restaurant industry is ripe for an overhaul of how service takes place and costs are controlled. Not much has happened in the bar business from a revolutionary perspective in decades with regard to a paradigm shift the likes of which has occurred, for example, in the taxi business with Uber. I believe that PourMyBeer's self-serve is that vehicle that both the consumer and the retailer have been looking for."
PourMyBeer challenges Seattle restaurants and bars to embrace technology to find solutions to newer problems so that levels of service and quality of experience are not only maintained but improved.
http://www.pourmybeer.com is an innovative Self-Serve Draft Beer Technology Company. The company was founded in 2008 and made the first commercial mobile self-serve beer tables in the US, now available in more than 300 locations nationwide. All mobile equipment is made in the USA. Contact sales (at) pourmybeer (dot) com or call 215-219-9203/443-691-2337 for more information.