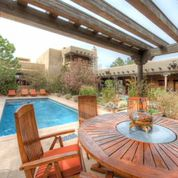 Pompano Beach, FL (PRWEB) June 09, 2014
"Randy Travis's Dramatic & Colorful Adobe Compound"
Mellow and laid back country singer Randy Travis's baritone voice led the world into another era of American country music - new traditional. Country music had seen a metamorphosis into pop-tinged music in the 1970s and 1980s, and the "new" country was an effort to bring it back to its roots. At age 55, Travis's career has already spanned 30 years, selling 25 million records, 22 of which were number one hits with six number one albums, six Grammy awards, six CMA awards as well as a star on the Hollywood Walk of Fame. He has also acted in films such as "The Rainmaker" and "Black Dog," along with appearing in parts on television in "Texas Rangers" and "Touched by an Angel." Travis is now living in Texas while recovering from a stroke and subsequent brain surgery.
In 2002, Travis and then wife and long time manager, Elizabeth Travis, purchased 220 acres from New Mexico's former governor and proceeded to build a number of adobe structures which was to become their home for the next 12 years. After their divorce in 2010 and Randy's illness, Elizabeth is now selling the 19,339-square-foot estate for a smaller home closer to central Santa Fe.
Custom designed, elaborately decorated and built by the Travises, the ranch buildings are in the Pueblo Revival style with the main house consisting of 8,750 square feet with five bedrooms and eight baths. Also in the main house are ten fireplaces, fitness room, chef's kitchen, hardwood floors, home theatre, library and home office. Home details are dramatic and colorful with careful attention to details and Southwestern U.S. motif. There is a heated three-car garage attached. Outside is a barn, guest house, heated pool, equestrian facilities, outdoor kitchen and views of the Sangre de Cristo and Jemez Mountains from the decks and patios. Special features include hand-carved doors, corbels, inlaid details, stitched leather ceilings and vigas.
Randy Travis's 220-acre New Mexico estate and ranch near Santa Fe, now listed at $14.7 million. The listing agent is Bob Cardenale of Sotheby's International Realty.
Real estate is never boring at TopTenRealEstateDeals.com.