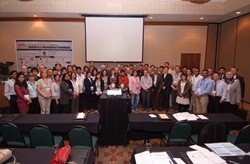 Critical Review on Recent Developments in Analytical & Bioanalytical Techniques
Los Angeles, California USA (PRWEB) June 09, 2014
Analytica Acta-2014 conference is a critical examination of various Analytical and Bioanalytical techniques available at present and the recent additions to it would enormously enrich our knowledge in understanding the current requirements of the global pharmaceutical industry. Analytical & Bioanalytical Techniques International Conference 2014 mainly aims to attract professors, renowned scientists, talented young researchers, students and business delegates representing more than 30 different countries.. Analytica Acta-2014 ensures sharing of ideas and vision to empower and establishes young talents by satisfying their research requirements.
OMICS Group has been successful in revolutionizing the 300 Open Access Journals and providing exposure to the scientific community by laying a platform along with 30, 000 editorial team, 30, 000 reviewers and 3.5 million readers. Open Access Journals uses the power of internet and multimedia to make knowledge available globally with one click away. The main aim of OMICS Group is to transform the world by circulating the knowledge related to science and technology all over the globe by different theme standards of living of the masses. Along with the Journals, OMICS Group also organizes Scientific Meetings, which lay a perfect platform for all the International Audience to share their research ideas. OMICS Group encourages experts from the field of academia and industry to spread their innovative research and ideas by providing them a global networking platform. Participants can present any subject matter of their interest at the International conference and can interact by sharing their ideas with eminent scientists, professors and delegates.
The Analytica Acta-2014 Organizing Committee includes prominent scientists, professors and researchers, who will peer-review the abstracts and select them for Oral & Poster Presentations.
Some of the prominent speakers to address the meet:
Eduard Rogatsky, Albert Einstein College of Medicine, USA , Yuewu Xiao, Merck Millipore, USA, Farid Menaa, Fluorotronics Inc., USA, Jianping Wu, Pharmaterials, Ltd, A PII Company, UK , Qi Lin, Abbott Nutrition R&D, Singapore, Sergei Shtykov, Saratov State University, Russia, Michael Zhou, Director of Bioanalytical PR&D, Forest Laboratories, Inc., USA, Ming Li, Biogen Idec, USA, Wenxin (Shirley) Xu, Bruker BioSpin GmbH, China, Makhapa Makhafola, Mintek, South Africa, Wayne G. Carter, University of Nottingham, UK, Edward Lai, Carleton University, Canada, Erkang Wang, Chinese Academy of Sciences, China, Yuri A. Zolotov, Lomonosov Moscow University, Russia, Andrew Benniston, Newcastle University, UK, Huangxian Ju, Nanjing University, China, Hiroshi Uyama, Osaka University, Japan, Yoon-Bo Shim, Pusan National University, S. Korea, Doo Soo Chung, Seoul National University, South Korea, Susanne P Boyle, The University of Manchester, UK, Markus Link, Bruker BioSpin GmbH, Germany, L. A. Frank, Siberian Branch of the Russian Academy of Sciences, Russia, Sebania Libertino, Istituto per la Microelettronica e Microsistemi (CNR-IMM), Italy, Seung-Woo Lee, The University of Kitakyushu, Japan.
For the Tentative Program of the conference, please visit: http://www.pharmaceuticalconferences.com/analytical-bioanalytical-techniques-2014/scientific-programme.php?day=1&sid=388&date=2014-08-18
Analytica Acta-2014 conference is collaborated with International Federation of Clinical Chemistry and Laboratory Medicine (IFCC), Hellenic Society of Medicinal Chemistry, (Russian) Scientific Council on Analytical Chemistry, The Chromatographic Society (CSI) of India.
Analytica Acta-2014 is a unique chance to discuss and disseminate knowledge which would benefit the upcoming challenges and progress in the field of Analytical & Bioanalytical Techniques.
For more details on Analytica Acta-2014 conference, please visit: http://www.pharmaceuticalconferences.com/analytical-bioanalytical-techniques-2014/.
For further details contact
Jessie Webb
Analytica Acta-2014 Organizing Committee
Pharmaceutical Conferences
5716 Corsa Ave, Suite110
Westlake, Los Angeles
CA-91362-7354, USA
Phone: +1-888-843-8169
Toll No +1-800-216-6499
E-mail: analytica2014(at)omicsgroup(dot)us / analytica2014(at)omicsonline(dot)us