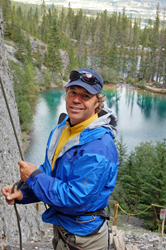 "Mountains for Growth is adventure for the purpose of growing and developing." -Ken Wylie, founder
Blacksburg, VA (PRWEB) June 07, 2014
Ken Wylie, an internationally certified mountain guide and author, has founded Mountains for Growth to offer adventure coaching services for individuals, veterans and corporate groups.
Mountains for Growth uses adventure in mountain and wilderness environments as an educational tool for physical, mental, emotional and spiritual development. Guides teach clients rock climbing and mountaineering skills, and facilitate discussion about these experiences to prompt self-reflection and personal growth.
Based out of Blacksburg, Va., Mountains for Growth offers single-day and weekend coaching experiences by appointment for local individuals and groups. Multi-session introduction to rock climbing programs are also available. Programs are tailored to clients' physical abilities and goals, and previous mountaineering experience is not required.
Corporate teambuilding programs are fully customized single-day or multi-day experiences for groups of two to nine. Guides typically focus on facilitating leadership, teamwork and problem solving lessons.
Mountains for Growth also leads multi-week intensive programs. There are immediate openings for the company's summer expedition to the Canadian Rockies, occurring August 8-21.
Mountains for Growth's founder, Ken Wylie, has 30 years of experience as a mountain guide and experiential educator for organizations including Outward Bound and the University of Calgary. He has led expeditions around the world in Canada, New Zealand, Peru, Ecuador, Alaska and the continental United States.
Wylie is a certified member of the International Federation of Mountain Guides Associations, the American Mountain Guides Association and the Association of Canadian Mountain Guides. His debut book, Buried, will be published this fall.