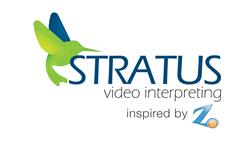 VRI expands the range of court-certified interpreters so they can serve a far larger geographic area, meaning that a court's pool of certified interpreters can serve the entire state if VRI is used.
Clearwater, FL (PRWEB) June 23, 2014
As the country's Limited English Proficient (LEP) population grows, the ability of U.S. court systems to supply qualified interpreters has become increasingly difficult and more expensive than many jurisdictions can handle—a fact which some say has caused less-than-qualified interpreters to be used in court proceedings and has subsequently led to overturned convictions due to claims of poor language services. But Video Remote Interpreting (VRI) company Stratus Video Interpreting offers a solution: VRI interpreting connects courts with a cloud-based network of certified spoken language interpreters with the ability to translate over 175 different spoken and sign languages, providing court systems nationwide with the right technology to improve equal access to language services while also turning an inherent cost center into a profit center.
The U.S. LEP population has increased by 81 percent since 1990, from nearly 14 million to about 25 million in 2011—and of the 25.3 million LEP individuals in the United States in 2011, 23.8 million (94 percent) resided in core urban areas or surrounding counties. (1) According to Stratus CEO Sean Belanger, court systems within those urban counties struggle continuously with providing interpreters to those who need them. While Florida is one state which recently approved amendments designed to improve language services in its state courts, the need for court-certified interpreters is a nationwide issue; a California judge recently admitted that when the court can't find an interpreter in cases that require the court provide one, cases get delayed while they look for someone who speaks the language: "It's terrible and it's expensive," San Bernardino's Presiding Judge Marsha Slough said. (2)
Although criminal cases typically demand that the court provide an interpreter, some counties generally don't provide them for cases such as arraignments, simple pleas and family court issues—cases which Belanger says comprise the vast majority of proceedings involving LEP persons. But expanding interpreting services would also mean expanding budgets for interpreters, which many small courts cannot afford, per Belanger: "In order to use a court-certified interpreter, many smaller courts would need to bring an interpreter from some distance away and pay mileage, in addition to the interpreter's hourly rate," said Belanger. "The cost of a sign language proceeding in a rural Florida jurisdiction, for example, has been known to run thousands of dollars for what would cost far less in a more populous area—so while cost is a primary reason that non-certified interpreters are used, there is technology available that simplifies the entire process."
Belanger states that VRI interpreting not only cuts interpreters' travel costs, but also increases access to language services and ensures that every citizen, regardless of the language they speak, has equal access to justice. Belanger cites a report from a court system as evidence of VRI's effectiveness:
●One Florida court reported that prior to introducing VRI, their staff interpreters spent approximately 20 percent of their time each day interpreting; the rest was spent traveling to and from courtrooms, jails and other venues and waiting for proceedings to begin. Once the court adopted video interpreting, their staff interpreter efficiency jumped to over 60 percent, and travel costs and delays were eliminated.
In addition to the cost benefits, Belanger says that courts which adopt VRI interpreting will begin turning a profit by allowing other courts access to the technology and certified interpreters.
"VRI expands the range of court-certified interpreters so they can serve a far larger geographic area, meaning that a court's pool of certified interpreters can serve the entire state if VRI is used," said Belanger.
Stratus' interpreting service is an application that can be loaded onto any PC, Mac, smartphone or tablet; the technology can even be applied to Polycom and Cisco systems. Through a virtual private network, an encrypted call is placed to one of Stratus' 33 video call centers across the U.S., and the next available interpreter in that language is found and connected.
Stratus specializes in the medical field and court interpreting, but the company's technology is applicable to every industry. Stratus employs experienced, highly-qualified, certified interpreters who can either be used to supplement an existing interpreting infrastructure or to replace live and over-the-phone interpreters altogether with their VRI system.
In its effort to assist hospitals in maintaining compliance while also reducing malpractice suits due to interpreting errors, Stratus upholds the standards of the Health Insurance Portability and Accountability Act (HIPAA) for protecting sensitive patient data by ensuring that all essential security measures are in place.
For more information about Stratus and its services, visit http://www.stratusvideo.com.
About Stratus Video Interpreting:
Stratus Video Interpreting provides on-demand interpreter services by using technology to connect clients with interpreters in over 175 spoken and signed languages in less than 30 seconds. Stratus' cloud-based video solution delivers an array of unique features to virtually any Internet-enabled PC, Mac, smartphone or tablet. Stratus clients use the technology to connect with their own staff interpreters, as well as with Stratus interpreters, who have years of healthcare and courtroom experience and hold multiple certifications. With Stratus, state-of-the-art video remote interpreting is made available with virtually no capital investment. Stratus averages 65,000 video calls a day, up from 40,000 in mid-2013. Stratus Video is the sister company of The Z® (CSDVRS, LLC, dba ZVRS), which was established in 2006 and developed by and for deaf and hard of hearing individuals, setting the industry standard as the nation's premier Video Relay Service Provider and the first VRS Provider to receive a 5-Year certification from the FCC. For more information, visit http://www.stratusvideo.com.
1.Whatley, Monica, and Jeanne Batalova. "Limited English Proficient Population of the United States." Migrationpolicy.org. N.p., 25 July 2013. Web. 3 June 2014. migrationpolicy.org/article/limited-english-proficient-population-united-states.
2.Palta, Rina. "Lack of Interpreters among the Barriers to Justice in California." Scpr.org. N.p., 4 Mar. 2014. Web. 3 June 2014. scpr.org/news/2014/03/04/42602/lack-of-interpreters-among-the-barriers-to-justice/.