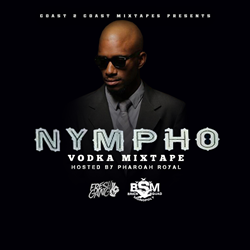 Miami, FL (PRWEB) June 06, 2014
Coast 2 Coast Mixtapes announce the release of the "Nympho Vodka Mixtape" by Pharoah Royal. The 18 track project is currently available for download. The mixtape features appearances from Haitian Fresh, The Royal Byrd, Steve Aoki, Waka Flocka Flame, CJ Tha Rippa, Gorilla Zoe, Kash da Real, YT Triz, Brisco, Flo Rida, Macon Hamilton, and CandyMane.
Pharoah Royal is an emcee and music industry professional born in the Bronx, NY but later raised in Palm Beach County Florida. No stranger to adversity, Pharoah Royal was born with several medical conditions, channeling his power and courage from a very young age to not only survive but flourish. Heavily influenced by the Hip Hop of the early 90s coming out of New York and New Jersey, Pharoah Royal's first idols were Nas, Jay-Z, Puff Daddy, and the whole Bad Boy family. When his health fully returned after multiple heart surgeries Royal's family moved to Palm Beach County Florida where Pharoah Royal first started to record music. By age 19, he had already recorded 90 songs and several mixtapes so he decided to move to Atlanta to learn more about the music industry. Over the next 6 years, Pharoah Royal found himself working with top management agencies and boutique labels between Atlanta and Miami, learning the ins and outs of being an A&R and music marketing professional. Working with such professionals as Janie Jennings and Jullian Boothe for such artists as Waka Flocka, Trina, and PitBull; Pharoah Royal is not only a talented emcee but also a savvy business man.
Recently building Waka Flocka's artist Haitian Fresh to new heights in his career as well as developing branding for the powerful vodka brand Nympho Vodka, Pharoah Royal decided to get back into the studio with his new understanding of the entertainment industry. Creating a label titled Fresh Gang with Haitian Fresh and later signing Royal Byrd, Pharoah Royal now has the knowledge, team, and resources needed to take the music industry by storm. Pharoah Royal's latest release "Nympho Vodka Mixtape" highlights the best of Fresh Gang all brought to you by Nympho Vodka. The mixtape features some of the best known artists in the South showcasing Pharoah Royal, Haitian Fresh, The Royal Byrd, Waka Flocka Flame, CJ Tha Rippa, Gorilla Zoe, Kash da Real, YT Triz, Brisco, Flo Rida, Macon Hamilton, and CandyMane. Get ready for a diverse soundscape of hard hitting beats, club anthems, pool party ready dance songs, and smooth 90s style R&B hooks; all tied together by that epic Southern production distinct to both the Atlanta and Miami sound. Keep up with Pharoah Royal on his Twitter page at @pharoahroyal.
Nympho Vodka has sponsored the mixtape because they are a brand that is all about having fun with that special someone but Nympho Vodka is very serious about how they distill their premium Vodka. Nympho Vodka is hand crafted with Brazilian Sugar Cane that conjures up the spirit of the sexiest beaches in Rio, then it goes through a meticulous filtration process for a silky smooth finish. Founder, Louis Modesti ,became bored by ordinary cocktails so he decided to create something completely new by traveling the world to discover exotic ingredients. Focusing on those ingredients that truly stimulate more than just taste buds he carefully infusing the exotic ingredients into this ultra smooth vodka creating Nympho Vodka, an unforgettable drink capable of unleashing the inner hedonist in anyone.
About Nympho Vodka:
One part cocktail one part aphrodisiac, this premium Vodka provides a stimulating blend of exotic ingredients rooted in Brazilian Sugar Cane. Look for the bold bottle with the chrome lettering and the transparent glass that turns purple when the light shines through. Sure to to increase desire and make those special nights a bit more special, pick up a bottle of Nympho Vodka today. For more information, visit http://www.nymphovodka.com/.
About Coast 2 Coast Mixtapes
Coast 2 Coast Mixtapes are the most widely distributed mixtapes in the world, with over 100 million downloads/plays generated by over 200 volumes officially hosted by major artists. Coast 2 Coast has a solid reach in the new music industry with a digital magazine, DJ coalition, industry tips blog, yearly convention, and more. Coast 2 Coast Mixtapes represents a unique opportunity for artists of all urban genres, from major to indie. For more information, visit http://www.coast2coastmixtapes.com.