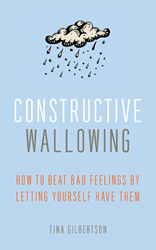 "Psychotherapist Gilberston has written a counterintuitive self-help book that offers constructive advice for boosting self-compassion by wallowing in negative feelings."—Publishers Weekly
(PRWEB) June 06, 2014
Tina Gilbertson's Constructive Wallowing: How to Beat Bad Feelings by Letting Yourself Have Them was featured on Everyday Health as one of five surprising ways to fight depression. As the article explains, "Simply avoiding your negative emotions can actually lead to feelings of depression." Tina advises that instead of burying negative emotions, we need to invite them into our consciousness without criticism, just as we do with pleasant feelings, so that despair can clear out just as quickly as glee does."
Constructive Wallowing is the first book to cut right to the chase, bypassing descriptions of Eastern philosophy and meditation techniques common in many "happiness" books today. Self-esteem expert and certified mental health counselor Tina Gilbertson teaches readers exactly how to accept and feel their feelings with self-compassion for greater emotional health and well-being, while sharing her own humorous anecdotes and asides along the way.
See Tina in person at these upcoming events:
6/6: Barnes & Noble, Roseville, MN - 6pm
6/7: SubText, St. Paul - 6pm
6/11: St. John's Booksellers, Portland - 7:30pm
6/13: New Renaissance Books, Portland - 7-8:30pm
6/19: Village Books, Bellingham, WA - 7pm
6/21: North Vancouver City Library, North Vancouver, BC - 2pm
6/23: Capilano Library, North Vancouver, BC - 7pm
6/24: Third Place Books, Lake Forest Park, WA - 7pm
6/25: Barnes & Noble, Seattle, WA - 4pm
6/26: University Bookstore, Seattle, WA - 7pm
6/29: Eagle Harbor Books, Bainbridge Island, WA - 3pm
7/16: Towne Center Books, Pleasanton, CA - 11am
7/16: Readers Books, Sonoma, CA -7pm
7/17: A Great Good Place for Books, Oakland, CA - 7pm
7/19: Book Passage Marin, Corte Madera, CA - 4pm
7/20: Laurel Book Store, Oakland, CA - 4pm
What People Are Saying about Constructive Wallowing:
"Laughter is the best medicine, as many have said, and psychotherapist Tina Gilbertson's new book, Constructive Wallowing: How to Beat Bad Feelings by Letting Yourself Have Them is laugh-out-loud funny. The author conveys her insightful thesis in smart, welcoming language that entertains and enlightens along the way."
—ForeWord Reviews
Tina Gilbertson holds a master's degree in Counseling Psychology and is a licensed mental health counselor. In addition to working with adults one-on-one, she teaches assertiveness and self-esteem workshops and classes on goal-setting, decision-making, overcoming anxiety and finding the right career. She has written feature articles on emotional intelligence and health for Portland's Natural Awakenings magazine, and contributes wisdom as a self-esteem expert for online therapist directory GoodTherapy.org. She lives in Portland, Oregon, and can be found online at TinaGilbertson.com.