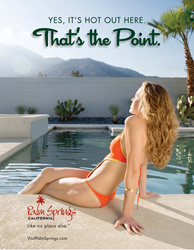 (PRWEB) June 06, 2014
The Palm Springs Bureau of Tourism has launched a new advertising campaign that continues to showcase why Palm Springs is "Like no place else". The new ad series features compelling photos and headlines that capture the city's relaxed character, playful attitude and sunny, warm setting.
"We wanted to express the unique carefree, sun-kissed vacation experience that only Palm Springs can offer," said Mary Jo Ginther, Director of Palm Springs Bureau of Tourism. "We attract sophisticated travelers who are looking for the perfect combination of relaxation and adventure."
The new ad series features photographs of a burgeoning young, hip demographic with headlines that include:

"You'll find a friendly greeting always awaits."
"We've always been a sun-worshiper kind of town."
"We don't need to weather-proof anything."
"Yes, it's hot out here. That's the point."
"You can stay awfully busy doing absolutely nothing."
"Up, up and far, far away."
"Come fly our friendly skies."
"Leave the hibernating to the animals."
"Let it snow, let it snow, let it snow."
"Lose the socks."
The new advertising campaign will run in major print and online media outlets in the drive and direct flight markets as well as national and international markets.
Check out the "behind the scenes" blog and photos of creating the new ad campaign.
About Palm Springs Bureau of Tourism
As the destination marketing organization for the City of Palm Springs, California, it is the Palm Springs Bureau of Tourism's goal to increase the City's exposure as a world class, year round leisure destination, thus increasing the transient occupancy and sales taxes generated for the City. For visitor information, go to http://www.VisitPalmSprings.com.