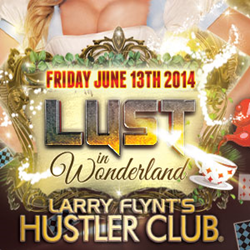 San Francisco, CA (PRWEB) June 05, 2014
Larry Flynt's Hustler Club is preparing for a night where anything can happen. The world famous gentleman's club latest event, "Lust in Wonderland," will be Friday, June 13. The event will feature the club's entire staff in costume and the club's interior transformed into a magical wonderland.
On Friday the Thirteenth, all bets are off, and The Hustler Club is fully capturing this spirit of unpredictability in their "Lust in Wonderland" event. The club encourages attendees to enter down the rabbit hole where anything is possible!
"Larry Flynt's Hustler Club knows how to make a costume party an event to remember," said Axel Sang, director of marketing for BSC Management. "We're looking forward to partying all night wonderland-style."
When guests walk into The Hustler Club, they'll come in through the rabbit hole and be transported to a magical land. They'll see the club's average Friday night entertainment transformed into a wonderland-themed costume party. All staff members will be dressed as characters from Lewis Carroll's beloved story, with Alice, the Mad Hatter, the Queen of Hearts and the Cheshire Cat all in attendance. There will even be a live talking caterpillar.
The Hustler Honeys will be providing the quality entertainment that customers have come to expect, but this time they'll be dancing by a black light mushroom forest. This is one show that should not be missed!
Fans of "Alice in Wonderland" are guaranteed to love this fun-filled event, and even those who aren't fans are sure to find something to enjoy. Larry Flynt's Hustler Club looks forward to seeing all their customers for "Lust in Wonderland" on Friday, June 13. For more information, call 415-434-1301.
About Us: Larry Flynt's Hustler Club is a world famous gentleman's club which delivers the ultimate adult entertainment experience to all their customers. Located in the North Beach district of San Francisco, The Hustler Club features two full bars, valet parking, private VIP booths, party packages, free limo service, concierge service and VIP bottle service. Home to the stunning Hustler Honeys, the party at The Hustler Club never truly stops, offering San Francisco's true afterhours entertainment until 5 a.m. all weekend long. This premier gentleman's club is a part of BSC Management and is always ready to accommodate all their guests and show them a great time.