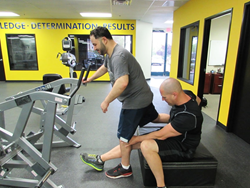 Since starting at Project Walk, I have seen my gait getting better because they force me to use my affected side. That's not a typical practice.
Las Vegas, NV (PRWEB) June 06, 2014
Sari Sayegh, 27 has an amazing outlook on life despite him losing the ability to do much of what he loves. Today, Sari says he is, "thankful for a second chance at life" and is moving forward with the help of the Project Walk Paralysis Recovery Center in Las Vegas, NV.
"I had no idea anything was wrong," says Sayegh. "I knew that I would get fatigued easily but nothing like what it turned out to be."
Sari Sayegh was a normal 25-year-old who spent much of his time engulfed in music. An avid pianist with a beautiful voice, Sayegh approached music as a second language. Yet in September 2012, Sayegh was admitted to the hospital for what turned out to be viral cardiomyopathy, a relatively rare condition that weakens the heart and makes it difficult to pump blood to the body properly.
It was determined that Sayegh would need a heart transplant and was placed on a ventricular assist device until a proper heart was found. Initially he was told that hospital protocol allowed for a total of 14 days on the assist device before he would have to be removed. For thirteen agonizing days, Sayegh waited in limbo- unsure of his future. On the thirteenth day, a perfect match was found.
He was rushed into surgery when complications occurred. A blood clot left behind by the old heart traveled to his brain and caused a stroke. Sayegh says he was unable to speak or move the majority of his left side.
"I used to sing," says Sayegh. "I played the piano and after that day, the intubation tubes ruined my vocal cords and because of my affected side; I can no longer play the piano fluidly. While I am so thankful for this new chance at life, I also feel as if a part of me died."
He spent the next year in traditional therapy before he found Project Walk. In describing his excitement Sayegh says, "Project Walk is my favorite type of therapy. They [my Specialists] are motivated to see me get better and they provide a strong social and mental aspect as well."
He continues, "Since starting at Project Walk, I have seen my gait getting better because they force me to use my affected side. That's not a typical practice."
Project Walk is based on The Dardzinski Method, and uses intense activity-based recovery backed by research and technology to expose those affected by disabilities to the most forward-thinking rehabilitation in the industry. Project Walk Specialists focus on getting clients out of their wheelchairs while attempting to retrain the areas affected by paralysis.
For Sayegh, it's the small improvements that keep him pushing forward.
"I love Project Walk," says Sayegh. "Would I recommend it to someone who has a stroke? Absolutely. I just keep getting better."
For more on Project Walk and stories like Sari's, please visit the website at http://www.ProjectWalk.com.