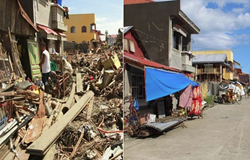 Our goal in any area where Food for the Hungry is involved is always to work alongside the communities to give them tools and resources, whether material or training or otherwise, so they can take full ownership of their community's rebirth
Phoenix, AZ (PRWEB) June 06, 2014
In the six months since Typhoon Haiyan hit the Philippines with maximum sustained winds of 320 mph, affecting more than 12 million people across nine regions, the resiliency of the Filipino people has been remarkable and rebuilding is underway.
Food for the Hungry (FH) has been working alongside the communities and its leaders since the devastation started on November 8, 2013. Following a rapid assessment, FH began a long-term project to support the holistic and immediate needs of these 15 communities in the Samar Province, beginning with distributing two-week food rations to more than 4,400 households. 5,818 families also received blankets, sleeping mats, kitchen kits, hygiene kits, a flashlight, water containers and a bucket.
In efforts to restart the area's fishing industry, a boat maker was contracted to build 46 motorized boats and 200 paddle boats, which were distributed in April and May. Other fishing supplies, such as crab nets, ropes and anchors, were given to fisherman to a return to work.
FH also helped 1,880 community members regain their livelihoods by providing cash for work programs that paid men and women to help in debris removal and community clean-up activities. Other livelihood programs included supplying rice/vegetable seeds and tools to farmers for growing food for income and household consumption.
To help children, FH opened 35 child-friendly spaces (CFS) to provide protection, education and psychosocial care for children ages 3-17. With many homes and schools destroyed and streets filled with unsafe debris, more than 4,600 children continue to find a safe respite in CFSs to play games, receive counseling and participate in a learning environment until school resumes.
Now six months later, FH continues to work alongside these 15 communities, moving from relief aid to long-term rehabilitation and rebuilding. FH is working with local leadership teams to increase the capacity of each community to oversee community recovery and development programs.
"Our goal in any area where Food for the Hungry is involved is always to work alongside the communities to give them tools and resources, whether material or training or otherwise, so they can take full ownership of their community's rebirth," said Beth Allen, FH staff. "In the case of Samar, part of that means helping families rebuild their livelihoods, but it also means helping the communities become better prepared in case of another disaster."
During the next phase of FH's involvement, training will be provided to leadership teams in project planning, management, advocacy and governance skills, to support redeveloping agriculture and fishing industries. FH will also form disaster risk management committees creating strategies for various disaster scenarios.
Founded in 1971, Food for the Hungry provides emergency relief and long-term development programs with operations in more than 20 countries to help the world's most vulnerable people. Learn more by visiting http://www.fh.org. Social connections include http://www.facebook.com/foodforthehungry and http://www.twitter.com/food4thehungry.