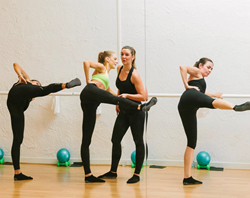 It's essential to find a highly trained and well-qualified Pilates instructor.
(PRWEB) June 07, 2014
One of the fastest growing exercise workouts in the world today, Pilates offers a host of health benefits to even the most novice disciple. It's also a routine which can be enjoyed at any age or stage of life as the article Pilates Beginners Training and How to Be Healthy explains.
What is Pilates?
Developed by Joseph Pilates in the early 1900s, the workout routine was originally devised to help dancers and athletes safely recover from injury sustained through professional performances.
Today Pilates helps a variety of individuals - whether they are looking to simply tone and get fit or if they are a professional sportsperson looking to enhance current performance.
It's an adaptable form of exercise which can easily be modified and restructured in order to meet the needs of everyone. This includes pregnant and post-natal women and those suffering from painful back or neck conditions, headaches, sciatica and arthritis.
Pilates and its health benefits
Flexibility, improved strength, toning and relief from particular forms of pain are just some of the benefits on offer via this popular exercise regime. It is particularly good for improving core strength by focusing on the muscles which aid posture and efficient movement.
Other conditions it can help (apart from those mentioned above) include problems with the cardiovascular system, diabetes, fibromyalgia, arthritis, scoliosis and bone density (such as osteoporosis).
It can also help to boost energy levels through improving breathing and the body's circulatory system.
When it comes to posture, pilates gets the body's muscular system back into alignment, helping the body move freely overall. The results from pilates aren't immediate but those who undertake the exercise regime can look forward to a dramatic improvement in their posture over time
.
What makes a good Pilates instructor?
"It's essential to find a highly trained and well-qualified Pilates instructor," said Gollan, a former professional dancer. "Studios, such as our own, who offer classes for small groups are definitely best.
"That's because classes with just a handful of participants means that everyone who attends will receive the care and attention they need to help them improve whichever area of the body they feel they need help with.
"In terms of athletes and dancers, it means that the instructor will be able to pinpoint the best starting place for them and to help them reach their professional goals.
Instructors who offer an initial assessment are best placed to work out a suitable exercise routine for beginners which takes their individual needs into account. It also gives them an idea of a good starting place for those who are fit but have never tried the exercise regime before. The following are excellent Pilates exercises for beginners:
Saw
Aimed at stretching the back and hamstrings, this exercise introduces pelvic stability.
Spine Stretch
As the name suggests, this focuses on elongating the spine, neck, and upper back. It's helpful for reducing back pain and increasing the rotation of the spine.
One Leg Circle
A work-out for the leg muscles, this exercise is aimed at keeping the back stable and in a neutral-spine position.
Toe Taps
This is an exercise which works well at strengthening the abs and lower back.
Gollan adds: "Before starting in on any Pilates exercise, it's a good idea to book into a Pilates class.
"Doing so will give you the confidence that comes with knowing you're doing the exercises properly and which in turn will ensure you get the most benefit from what you're doing. It also helps to prevent injury of course."
Knowing whether Pilates is right
Those looking to achieve a long, lean physique and a healthy body are definitely on the right lines if they join a Pilates class.
Sceptics can check out for themselves whether or not they would benefit from the exercise regime by referring to the article Pilates Classes Adelaide Helps With These 20 Common Health Questions.
More information on Pilates as well as tips on improving health and fitness in general can be found at the Inner Strength Pilates website. It's also possible to sign up for classes directly online.
Meanwhile, to keep up to date with the exercise and promotions at Inner Strength Pilates why not check out their Facebook and Google Plus pages today?