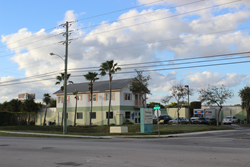 "With our long-term outlook, we believe this property fits very well strategically within our portfolio." Charles Byerly, CEO
Irvine, CA (PRWEB) June 06, 2014
US Storage Centers, today, announced it has completed the acquisition of a 49,124 sq. ft. self storage facility located at 1425 SW 10th Street, Delray Beach, Florida. The facility has 568 units and will be rebranded as US Storage Centers.
"We are very excited about this acquisition because of the opportunity to add value through revenue management and marketing" said Drew Hoeven, VP of Acquisitions for US Storage Centers. "This marks our sixth acquisition within the Miami MSA and really adds to our local scale and brand. Currently we are in negotiations on two other acquisitions within the area as well and hope to close them by the end of Q3."
The company's President and CEO, Charles Byerly, states "with our long-term outlook, we believe this property fits very well strategically within our portfolio. It has all of the right fundamentals in place and we were able to achieve some downside protection through acquiring the property at an above average cap rate."
US Storage Centers has been a leading owner operator in the storage industry for nearly 30 years. It currently has over 5,000,000 rental square feet under management, which is comprised of self storage and RV and Boat storage. The company is the tenth largest operator in the U.S. and continues to grow through its acquisitions, development and third party management services.
About US Storage Centers
Founded in 1985, US Storage Centers is an owner / operator of self storage facilities in 12 states. US Storage Centers is a vertically integrated real estate company specializing in the self storage industry that develops, acquires and manages its own portfolio as well as provides third party management services. As of April 2014 it has well over 5 million rentable square feet under management and employs over 200 people nationwide. US Storage Centers is a founding partner of the 501(c)3 Kure-It, a non-profit organization that raises money for underfunded cancer research, as well as Charity Storage, a 501(c)3 that uses vacant storage units to raise money for local charities. To date, Kure-It has raised over $2.5 Million and Charity Storage has raised nearly $200,000.