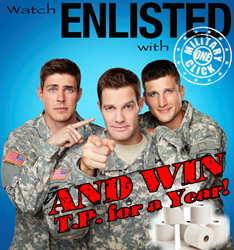 "We're celebrating the fact the show's still airing new episodes along with its fan base, and there's also a chance it can live on - and we're going to fight as hard as we can forthat chance." Kevin Biegel
Washington DC (PRWEB) June 05, 2014
MilitaryOneClick and the TV Comedy 'Enlisted' broke Twitter "potty" records last Sunday during a new episode of the show which aired on June 1, 2014 7/6c on FOX. During the 3 hours surrounding the show, #Enlisted was tweeted 12,302 times resulting in the messaging being seen by 7,263,990 people with a potential reach of over 29 million.
MilitaryOneClick, 'Enlisted' and their fans will band together again this Sunday, June 8 at 7/6c FOX during a second LIVE Twitter "potty" for the show in hopes it will be picked up by a new network. MilitaryOneClick will continue to host these Twitter "potty's" and toilet paper giveaways from Charmin every Sunday through the season finale on Sunday, June 22nd on FOX.
Kevin Biegel, creator of 'Enlisted', also known for writing and producing huge hits such as 'Scrubs' and co-creator of 'Cougar Town', is not giving up on to bringing 'Enlisted' back for Season 2. According to Biegel in an exclusive interview with MilitaryOneClick, "We're celebrating the fact the show's still airing new episodes along with its fan base, and there's also a chance it can live on - and we're going to fight as hard as we can for
that chance."
According to Tim Hudak, Marine Corps Veteran and Founder, FocaSocial, "Enlisted has tackled important topics faced by our military members today, such as deployment and PTSD, while also making us laugh with their arsenal of puns and pranks on every show...it's brilliant...it is also apparent that much time, research, and heart has been put into this show to make sure it's authentic, unique and hilarious."
Last week, two military families were awarded a years worth of toilet paper for answering the fun trivia questions via tweets during the show. The toilet paper is generously donated by Charmin, "a big believer in comedic and bathroom relief," according to Laura Dressman, Family Care Communications, Procter & Gamble.
Pilcher and the entire military spouse team at MilitaryOneClick jokes around that it's their "duty" to make sure the show continues. Pilcher, a military spouse for over 17 years and a military marketing expert, comments, "We were blown away by the record breaking organic response to last weeks twitter "potty." 'Enlisted' was trending on Twitter an hour before the show even aired...then our feed exploded during the episode and continued trending well after the west coast episode aired. Millions of fans, military and civilian alike, are determined to help 'Enlisted' land on a new network."
Complete Twitter "Potty" Details: June 8, 2014 7/6c and 7pst on FOX. http://militaryoneclick.com/are-you-ready-to-get-tpd-by-enlisted-and-charmin-join-our-first-ever-twitter-potty/#sthash.wPuJPqzb.dpuf.
About MilitaryOneClick:
MilitaryOneClick (http://www.militaryoneclick.com), founded and led by Jennifer Pilcher, one of the nation's foremost experts on military families, is a premier online resource for active duty military, reservists, veterans, and their families. A military marketing consultant and military spouse herself, Pilcher and MilitaryOneClick work with clients that include Amazon, MetLife, GM, La Quinta Inns & Suites, Sittercity, Sprint, and US
Chamber of Commerce. MilitaryOneClick connects directly with their community daily through militaryoneclick.com, social media, blogs, e-newsletter and boots on the ground events, reaching over 1.6 million people a month.