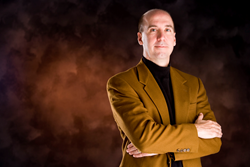 How does a person prepare for such a paradoxical future? The answer lies in embracing other paradoxes such as learning to unlearn, thinking about the unthinkable, and acknowledging that an awareness of one's ignorance is a key component of wisdom.
Columbus, OH (PRWEB) June 10, 2014
According to the Read/Write Website, " A massive market opportunity awaits in analyzing The Internet Of Things." Verizon Wireless knows this, and so does Global Futurist and best selling author Jack Uldrich who Verizon has selected as one of their primary keynote speakers for their Connected Technology Tour. Uldrich is addressing the Tour in Columbus, Ohio on June 10th and in Minneapolis on June 12th.
Verizon Wireless is asking people across the country to join them for conversations about how businesses and public agencies are leveraging the accelerated growth of connected devices to increase operational efficiencies, enhance safety and security and, in some cases, generate new revenue streams through the use of Machine to Machine Technology.
"Machine to Machine Technology, or M2M is all the rage these days and it's easy to see why. Everything connected to the internet holds vastly more potential than it did even ten years ago. The possibilities it's creating are endless and it's up to business owners to get on the band wagon and embrace all that they can before technology overwhelms them," says Uldrich. But Uldrich's tactic for absorbing all this knowledge is not simply about learning the new trends, conversely, Uldrich advocates "unlearning" first.
Unlearning? Yes, "unlearning." Hailed as the "Chief Unlearning Officer" at the Learning Officer Summit in Mumbai, India in 2012, Uldrich often quotes Lao Tzu's famous phrase, "To attain knowledge, learn something new everyday. To attain wisdom, subtract something every day." With the wave of new technology that is coming our way, unlearning may seem antithetical, but Uldrich would beg to differ. His point is that we have so many preconceived notions and old habits inhibiting us that opening ourselves to all these new technological wonders is best done when we have a clear palate.
"When it comes to the IoT," Uldrich says, "knowledge is power. And real power comes from knowing yourself, your values, and how to leverage these new technologies. It's truly a balancing act--the world is changing by leaps and bounds and business owners need to weigh the pros and cons of these changes." They ought to consider what Uldrich dubs, "reverse mentors." Reverse mentors are people who, at first glance, one might not necessarily think they can learn anything from. In this case, the younger generations who have their finger on the pulse of almost every single technological advance there is, are a perfect example. Uldrich says, "Young, articulate kids can actually consult CEOs on the wave of the future--if the CEOs are willing to listen." And Columbus business leaders can listen to Uldrich share more of his ideas at the Verizon Wireless Connected Technology Tour today at the Center of Science and Industry.
Parties interested in learning more about Jack Uldrich, his writing, or speaking, can contact Amy Tomczyk at (651) 343.0660.