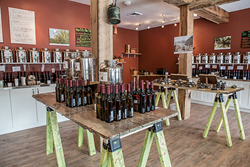 Bringing the clothes buying experience to food, Pure Mountain Olive Oil encourages all of their customers to touch, try, and taste all of their products before they purchase.
Bronxville, NY (PRWEB) June 06, 2014
Bringing the clothes buying experience to food, Pure Mountain Olive Oil encourages all of their customers to touch, try, and taste their products before they purchase. This Saturday, June 7th, Pure Mountain Olive Oil is expanding into the wonderful town of Bronxville, NY with a Grand Opening event that is sure to be the talk of town.
Pure Mountain Olive Oil is owned and operated by Zak Cassady-Dorion and Wolfgang Foust, classmates from Thunderbird School of Global Management, foodies, and avid international travelers. Together they bring the flavors and culinary style of the freshest extra virgin olive oils from all over the world and the best balsamic vinegars from Modena, Italy.
Cassady-Dorion started Pure Mountain Olive Oil because he has a passion for food and for new and disruptive business models. Previous to Pure Mountain he was a partner and cofounder in Startup Exemption, the organization responsible for writing the crowdfunding portions of the JOBS Act (signed into law by President Obama in April of 2012) legalizing equity and debt based crowdfunding. He also coauthored the first book on the subject, Crowdfund Investing for Dummies, released last year. Cassady-Dorion is a serial entrepreneur with a zest for giving back to communities through starting companies, creating jobs, and encouraging fresh, local, and healthy eating. He was featured in the May, 2013 issue of Entrepreneur Magazine and the January, 2013 issue of Westchester Magazine.
Pure Mountain Olive Oil, known for its "try before you buy" style, each of Pure Mountain's three locations offers in-store samples of all of their products. Their knowledgeable staff can help to mix one of the "top ten pairings" or you can simply browse the store, following the call of your taste buds. Perhaps they will lead you to one of Pure Mountain's customer favorites – the Fig Dark Balsamic Vinegar - a fig-infused authentic dark balsamic vinegar. This thick, robust, and versatile culinary delight needs no reduction, simply open and drizzle on any- (and every-) thing. Try this on a salad, and although it needs no accompaniment, the Basil Olive Oil makes for a fresh, crisp finish.
The Grand Opening is expected to be a fun event for the whole family. Pure Mountain Olive Oil will be showing its products in action with various appetizers including their famous freshly popped Italian Herb Olive Oil Popcorn. Co-owner Foust says: "children always love our store. It's the first retail establishment they've been to where they're not scolded for touching things but actually encouraged to try the products along with their parents. We've heard from a lot of our customers that our products are the only reason their kids eat vegetables. In addition to being encouraged to try our products this Saturday we're going to be having face painting for our young customers as an added treat."
The stores also offer a full line of gourmet oils, sea salts, herb blends, gifts, custom bottles for weddings and events, and other foodie products. The Bronxville store will be open daily from 11am – 7pm. The other locations are at 23 E Market Street in Rhinebeck and 11 N. Broadway in Tarrytown. The products are also available for purchase online at http://www.puremountainoliveoil.com and featured at several fabulous New York eateries and specialty stores including Reel Seafood Company in Albany, NY; Fin: your fishmonger in Albany & Saratoga Springs, NY; Gigi Trattoria in Rhinebeck, NY; Adamas Fairacre Farm in Poughkeepsie, NY; Just Salad locations throughout New York City and Beekman Arms in Rhinebeck, NY. For more information contact Pure Mountain at customerservice(at)puremountainoliveoil(dot)com.