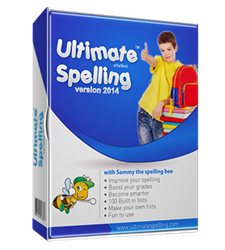 Learning how to spell shouldn't be a riddle but a rewarding, pleasant experience for the student.
New York City, NY (PRWEB) June 06, 2014
Ultimate Spelling™ has received a thoughtful evaluation by Vocabulary.co.il, eReflect reported today. The English language resources site examined various spelling software products, only to conclude that Ultimate Spelling™ stands head and shoulders above the rest. As the reviewer at Vocabulary.co.il explains, the software by eReflect was rated so highly because it has been designed by experts, always with effectiveness in mind. Ultimate Spelling™ helps both young and older spellers improve their spelling performance through a vast array of activities, games, and lessons.
Better spelling doesn't depend on boring, repetitive exercises, though eReflect admits that many people may believe from their own experience that this is the case. Rather, spellers can engage with fun and interactive games and lessons to improve their spelling these days and Ultimate Spelling™ is a system that provides these modern advantages. eReflect, a leader in self-development software, has designed the Ultimate Spelling™ system to ensure that even the youngest spellers will find interesting and play-based exercises to practice with. Learning how to spell shouldn't be a riddle but a rewarding, pleasant experience for the student. That's why Ultimate Spelling offers customized and grade-related spelling exercises and activities to ensure the learner will always find something new and compelling to practice with, no matter their age or spelling skills.
The reviewer at Vocabulary.co.il emphasizes the intuitive layout and interface of the software that make it user-friendly. It's both easy on the eyes and on the mind, ensuring the learner focuses on spelling and doesn't get distracted by extraneous sounds, animated text, or other unnecessary features. Its dictionary-like word database of more than 140,000 words and its school-grade compatible organization of activities and lessons, make it a must-consider option for parents who want to help their children improve their vocabulary.
The spelling software review also highlights the software's capacity for customization as another reason why Ultimate Spelling™ is justifiably a top choice among parents. The user can tailor their spelling practice according to their inadequacies, strong points, and goals. Users can even track their progress in a way that can further fine-tune and enhance the learning outcome. Lastly, the reviewer points to another review by a third party that essentially emphasizes and praises the same features and capacities of Ultimate Spelling.
***********
For more information about how Ultimate Spelling software can improve spelling performance for you and your family, please visit the official website at http://www.ultimatespelling.com.
About Ultimate Spelling™
Ultimate Spelling provides a modern and easy to use spelling software that has been designed with one goal in mind – making children want to learn.
It is a fast and easy way to master even the most complicated spelling, without the need to write long lists or complete boring tests.
In fact, Ultimate Spelling provides more than just spelling help. It is a complete educational resource that boosts all level of a child's literacy.
Containing a personal computer tutor, Ultimate Spelling is the most realistic step-by-step guide to flawless spelling ability.