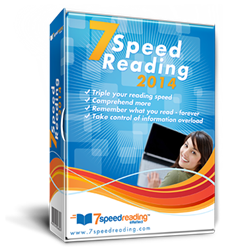 Efficient reading techniques mean that people can absorb more knowledge and learn more valuable information in less time.
New York City, NY (PRWEB) June 09, 2014
eReflect proudly announces the company's partnership with Ventura, an organization specializing in educational technology and instructional software catering to all levels of student education, including K-12 institutions, colleges, and private and public training and educational needs.
eReflect, developer of 7 Speed Reading™, has partnered up with Ventura to offer interested students and state and private educational organizations a chance to improve their opportunities for increasing knowledge at a wider range and depth through the use of the 7 Speed Reading™ program.
Ventura and eReflect are both proponents of using technology in the service of education and this partnership seeks to take this mission to the next level. 7 Speed Reading™ helps people improve comprehension and learn how to get rid of counterproductive reading habits like subvocalization and regression. Faster reading means more time saved, which means the student will acquire more facts and knowledge – an essential success parameter in today's information-intensive society.
The partnership with 7 Speed Reading seeks to raise awareness about the critical importance of reading and learning for personal and professional success. eReflect is optimistic that as more users improve their reading speed and comprehension with 7 Speed Reading™, the more popular this reading method will become.
Speed reading has long been recognized as useful, although some people maintain that speed comes as a result of sacrificing comprehension. But the truth is that learning speed reading with the help of an expertly designed software that focuses on comprehension as well as words per minute means that both goals can be achieved. Efficient reading techniques mean that people can absorb more knowledge and learn more valuable information in less time.
7 Speed Reading™ helps users by first focusing on eliminating counterproductive reading habits like subvocalization (pronouncing or mouthing words while reading) that tend to slow them down. Another reading habit 7 Speed Reading™ eradicates is regression: the lack of focus on the text being read that causes the reader to re-read whole passages, wasting valuable time. By learning to eliminate this bad habit, people can triple their reading speed.
eReflect and 7 Speed Reading™ are excited about the company's latest partnership with Ventura and are hopeful that more people will take advantage of this collaborative effort and benefit from the skill of speed reading in the months to come.
************
For more information about the benefits of using 7 Speed Reading, please visit the official website at http://www.7speedreading.com.
About 7 Speed Reading™
7 Speed Reading is the only modern speed reading software that uses the latest technology to produce superior results.
The software provides its users with a new way to master speed reading that guarantees three times the reading speed along with improved memory and comprehension.
The software is poised as the most comprehensive speed reading system anywhere. It contains seven learning strategies, fifteen software activities, video training, advanced tracking capabilities and many more exciting features.