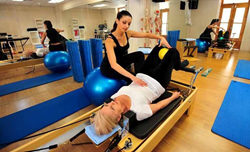 A good Pilates instructor won't just provide exercises but will also guide, motivate and encourage.
(PRWEB) June 09, 2014
In her new article How to Find a Pilates Studio to Improve Your Health and Wellness Gollan goes on to list the essential prerequisites for anyone looking to join a Pilates class for instruction. An exceptional studio, she says, should have qualified trainers alongside updated and working equipment.
Look for Studios with small group sizes
Coaching sessions with smaller groups means individuals will get the care and attention that's right for them. It means they'll be provided with exercises aligned with their own personal goals rather than a one-size-fits-all routine. Ideally there should not be more than five in a class at any one time.
Look for Pilates Instructors that are well-trained
A good Pilates instructor won't just provide exercises but will guide, motivate and encourage at the same time. They should be certified and passionate about training others. In other words, they should love what they do.
Good Pilates studios shouldn't mind potential participants ringing them to check up on the credentials of staff. It's also possible to tell whether the instructors are keen by looking through the company website and checking out the photographs. If the instructors are smiling in them then it's a given they're enjoying the classes themselves.
Ask for recommendations
One of the best ways to find out whether a studio is any good or not is to ask those who are already members. If there is no-one around to ask then the same can be achieved by searching through online review. Facebook conversations are another good way of finding out whether or not a studio is top notch.
Find Pilates classes online
A Google or other search engine investigation should identify Pilates studios in a particular area. The websites should then detail the classes on offer. For instance there are mat-based Pilates routines, Allegra Reformer classes and Barre exercises.
Contacting the studio by phone will allow potential participants to have their concerns addressed prior to signing up for classes. A good way to see whether Pilates is the exercise routine that's right is to read Pilates Classes Adelaide Helps With These 20 Common Health Questions.
Test it out
The best way to determine whether a studio is a good match is to try out one class where it should be possible to also have a chat with an instructor beforehand or afterwards.
Gollan herself is a coach and director of the leading Adelaide Pilates company Inner Strength Pilates. They have five studios in the Australian city and offer classes in mat-based Pilates, Allegra Reformer exercises and Barre instruction.
Classes can be booked beforehand via their online timetable. They also welcome questions prior to joining for those who are unsure if Pilates is right for them. Further information can be found on the company's Facebook and Google Plus pages.