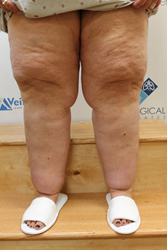 Estimates of the incidence of lipedema range as high as 11% of the post-puberty female population, with conservative estimates of 17 million women in the U.S. affected.
New York, NY (PRWEB) June 06, 2014
Cardiovascular surgeon Dr. David Greuner is successfully treating patients with lipedema, a chronic fat disorder that affects the legs and occasionally the arms, causing an abnormal accumulation of fat cells. Rarely talked about and often confused with lymphedema, a disorder of the lymph system, lipedema causes a  noticeably disproportionate appearance, with the lower extremities growing progressively larger. This not only causes emotional distress but also is very painful and potentially debilitating.
"Conservative treatments may reduce pain and reduce the chances of developing secondary lymphedema, however these treatments do not appear to have any long-term effect on the abnormal fat tissue," says Dr. Greuner. "Consequently, the only treatment for lipedema to show long-term success is tumescent lymph sparing liposuction."
Vicki, a 45 year-old New Jersey woman has the waist and lower body of an obese person, but she is not obese in the normal sense. Since her early 20's Vicki has been living with lipedema, a disease that affects an estimated 11% of the female population. "Many patients and even their doctors are unaware that lipedema is a disease," says Dr. Greuner. "These people must endure not only the significant, multiple effects of lipedema but often are told by their physicians and friends to lose weight or to increase exercise". 
Vicki says her condition has been worsening since her 30's, and she is one of the 6% afflicted who also has lipedema in her arms. Her current stage of lipedema is considered to be advanced, she says. Dr. Greuner is scheduled to treat Vicki with lymph sparing liposuction. "Lipedema patients may require more than one treatment to remove a sufficient amount of fat tissue," says Dr. Greuner.
"Lipedema strikes both thin and obese women alike, and generally dieting or exercise cannot stop or prevent it," says Dr. Greuner. "When the disease is diagnosed early, we may prevent a significant expansion of diseased fat cells, and once they are made aware of their heightened risk patients can take appropriate action."
Lymph sparing liposuction involves injecting a liquid solution into the legs to help numb the area and reduce blood loss before the unwanted fat is removed. In some cases, water-assisted liposuction may be used, to aid in breaking up the fat cells," says Dr. Greuner. "The procedure is performed with specialized custom cannulas that remove diseased tissue in the most non-traumatic way, minimizing damage to critical lymphatic structures that are often dysfunctional in these disorders."
"A broad range of vascular and lymphatic diagnostics and therapeutics is used at NYC Surgical Associates to accurately diagnose lipedema and to provide conservative non-surgical treatment as well as specialized surgical treatment, all at one location. This approach eliminates the need for multiple referrals," says Dr. Greuner. "Other soft tissue and vascular issues are often present with lipedema, such as venous insufficiency and lymphedema."
For more information on lipedema visit http://www.nycsurgical.net or call 888-286-6600. NYC Surgical Associates maintains offices in Manhattan, Brooklyn, Long Island, The Hamptons and New Jersey.