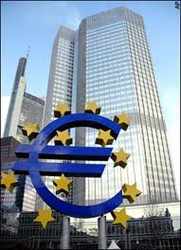 a historic day for both the ECB
Chicago, IL (PRWEB) June 06, 2014
Many U.S. lenders, like Peoples Home Equity were happy to see the European Central Bank (ECB) cut rates on Thursday June 5th. This move helps lower global concerns over Europe's fragile economy.
Thursday, June 5th was a historic day for both the ECB and the world as it marked the first time a major central bank cut rates into negative territory. The ECB cut its lending rate for banks down to negative 0.1%. The effect of this negative rate will be that banks will be charge interest from the ECB rather than earn money from interest. The intent of having this negative interest rate is to encourage banks to earn interest from lend to private individuals and business rather than earning interest from the central bank. Another reason for implementing a negative interest rate is to soften the euro which has become view as too strong recently. As reported by Reuters on Thursday June 5th, Mario Draghi said, "Most likely we will see immediate effects in the money markets and we will see delayed effects in the real economy attributable to this programme ... It will probably take three or four quarters."
Back in the U.S. mortgage rates ended a 5 day rise and finally declined 0.04% on the 30-year fixed rate, as shown on MortgageNewsDaily.com "Daily Mortgage Rates" page. Peoples Home Equity expects rates to fall a bit more in the coming days which is great for home buyers, especially those who were waiting to hear from the ECB before locking in. Rates on 30-year FHA mortgage have already dipped below 4% recently; we may see rates on 30-year conventional loans decline close to 4% again as well. Now that borrowers may be getting a better deal on rates soon, Peoples Home Equity expects to see weekly home sales just continue higher now. In fact, DQnews.com showed on Thursday in its weekly "National Home Sale Snapshot" that home sales have risen for the 10th week in a row!
The housing market is very much active this spring, some may say not as much as last year, but the pace of home sales are increasing just as fast as last year. Now is the time to take advantage of low annual mortgage rates and purchase a home before prices continue higher.
If interested in securing a competitive, lower rate mortgage, consider speaking with a Peoples Home Equity loan officer today details at: 262-563-4026