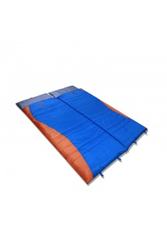 (PRWEB) June 07, 2014
Diyouth.com is a well-known online supplier; it is providing worldwide clients with a lot of quality items: women's special occasion dresses, high quality fashion accessories, sleeping bags and so on. Recently, the company has announced its new selection of "envelope style sleeping bags". In addition, it has that all these top quality bags are offered with discounted prices, up to 65% off. The special offer will be valid from today until June 21, 2014.
According to the company's marketing specialist, sincere customer service is always offered at Diyouth.com. The reliable supplier puts customer satisfaction in the very first place. All visitors of its online shop can feel free to ask any related questions. The company's experienced workers are making every effort to manufacture more useful items for worldwide people.
In addition to various kinds of practical sleeping bags, Diyouth.com has over 500 different kinds of graceful dresses for sale, including short prom outfits, A-line evening gowns, princess wedding gowns and so on. It has been working in the fashion field for a very long time. All its items come with big discounts at the moment.
The best-selling item in the company's new range is called Summer Outdoor Hiking Camping Envelop Sleeping Bag; some additional information about it is as follows:
Fabric: Polyester, Pongee
Color: Dark Navy
Special: Breathability, Envelope, Ultralight, Waterproof
Package: Yes
Capacity: 1
Size: (180+30)*75 cm
Package Size: 15*25 cm
Comfortable Temperature Scale: 0℃~20℃
About Diyouth.com
Diyouth.com is a professional online supplier in the international market; its products are popular among worldwide ladies. The company has thousands of enchanting wedding dresses and women's special occasion gowns for sale. Also, it offers high quality articles for daily use. Customers can find many different designs at its website. Also, it is also well-known for its considerate online service and rapid delivery.
For more detailed information about its unique products, please visit http://www.diyouth.com/sleeping-bag/shopby/outdoor_special-envelope.html or http://www.diyouth.com/blog/.