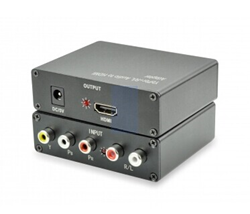 (PRWEB) June 06, 2014
Hiconn Electronics, a well-known electronics accessory company, has recently updated its website with a new collection of YPbPr+R/L Audio to HDMI Converters. Along with this, the firm has launched a big sale for these practical converters.
Worldwide distributors can find more details about the company's brand new items on its homepage. The main purpose of the current special offer is to facilitate Hiconn Electronics' old and new customers; it will come to an end on June 22, 2014. The company hopes that worldwide clients will like its new converters. Also, it has promised to spare no energy to make more high quality electronics accessories.
What's more, all the cheap YPbPr+R/L Audio to HDMI Converters are great. They come with a lot of distinguished features. All of them are easy to use. They are available in various specifications and come with low shipping costs. Also, all people can enjoy a convenient and enjoyable shopping experience on Hiconn Electronics' website.
Some detailed information about the company's YPbPr+R/L Audio to HDMI Converters is as follows:
--Easy to use, installs in seconds, do not need to set up, plug and play
--Audio input format: 2 channel LPCM
--Video input format: YPbPr
--Support YPbPr input for 480p , 576p, 720p, 1080i and 1080P
--Support HDMI output for 480p , 576p, 720p, 1080i and 1080P
About Hiconn Electronics
Hiconn Electronics (Shenzhen Hiconn Electronics Co. Ltd.) is devoted to designing and manufacturing a wide range of connection cables and customized cable assemblies, offering many HDMI cables, VGA cables, SATA cables, USB cables, 1394 cables, DVI cables, SCSI (Small Computer System Interface) and more. For more information, please visit http://www.hiconn.net/.
Contact Person: James Yin (Sales Director)
Company Name: Shenzhen Hiconn Electronics Co., Ltd.
Address: Shenghua Building., Xixiang Road., Baoan District, Shenzhen, Guangdong Province, China
Zip Code: 518102
Tel: +86-755-8109 8345
Fax:+86-755-2779 3497