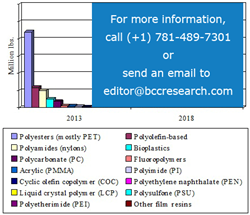 U.S. High-Performance Films Market to Reach 1.9 Billion Lbs in 2018; COC Segment Moving At 12.5% CAGR
(PRWEB) June 06, 2014
BCC Research (http://www.bccresearch.com) reveals in its new report, HIGH-PERFORMANCE FILMS: THE U.S. MARKET, the U.S. high-performance (HP) films market is expected to grow to 1.9 billion pounds in volume by 2018, with a five-year compound annual growth rate (CAGR) of 4.5%. Some trends driving growth include continuing miniaturization in a variety of consumer electronic products, growing demand for longer-lasting photovoltaic cells, and the replacement of commodity and HP films with bioplastic films made from renewably sourced plastics.
The polyesters category, with applications in packaging, release films, office products and hot stamping films, dominates the overall HP films market and is expected to reach 1 billion lbs by 2018, registering a CAGR of 3.2%.
However, the cyclic olefin copolymer (COC) category with its excellent electrical insulating properties and outstanding moisture resistance, is far and away the fastest moving segment in the market. With just 5 million lbs produced in 2013, COC volume is projected to jump to 9 million lbs in 2018 at a significant CAGR of 12.5%. This growth is in part attributed to COC's increasing acceptance in medical applications because of their high purity and superior heat resistance.
Overall, the demand for high-performance plastic films in the United States should continue to grow at a somewhat faster pace than Gross Domestic Product (GDP) because their unique value fits squarely into growing requirements for higher performance from a variety of markets, ranging from packaging and electrical/electronics to newer applications like photovoltaic solar cells.
"The United States was until recently the world's largest producer and user of polymer products," says BCC Research plastics analyst Charles Forman. "In recent years China, which has become the world's factory, surpassed North America in plastics production; however, the U.S. remains the largest user of plastics and plastic products. With abundant and cheap natural gas feedstock from hydraulic fracturing of tight gas shales, large petrochemical and polymer plants are again being built in the U.S."
Developments using these films should have some significant effects on our economy and help provide the ability to solve some current problems such as climate change, where improved performance in applications such as solar cells and fuel cells can help curb global warming, one of the most serious environmental concerns.
HIGH-PERFORMANCE FILMS: THE U.S. MARKET provides an overview of the U.S. market for high-performance films. It includes analyses of global market trends, with data from 2013, projections of CAGRs through 2018, and profiles of key companies in the industry.
Editors and reporters who wish to speak with the analyst, should contact Steven Cumming at steven.cumming(at)bccresearch(dot)com.
About BCC Research
BCC Research publishes market research reports that make organizations worldwide more profitable with intelligence that drives smart business decisions. These reports cover today's major industrial and technology sectors, including emerging markets. For more than 40 years we've helped customers identify new market opportunities with accurate and reliable data and insight, including market sizing, forecasting, industry overviews, and identification of significant trends and key competitors. We partner with analysts who are experts in specific areas of industry and technology, providing unbiased measurements and assessments of global markets. Our clients include the top companies in industries around the world as well as universities, business schools, start-ups, consulting firms and investment companies. BCC Research is a unit of Eli Research LLC. Visit our website at http://www.bccresearch.com. Contact us: (+1) 781-489-7301 (U.S. Eastern time), or email information(at)bccresearch(dot)com.
Data and analysis extracted from this press release must be accompanied by a statement identifying BCC Research LLC, 49-2 Walnut Park, Wellesley, MA 02481, Telephone: (+1) 781-489-7301; Email: editor(at)bccresearch(dot)com as the source and publisher. Thank you.