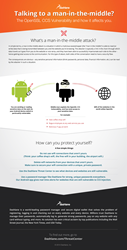 The DTC is the place where consumers should go to answer basic questions like 'What is the threat?" "How am I affected?" and "What should I do?"
New York, NY (PRWEB) June 06, 2014
In the wake of the latest OpenSSL vulnerability Dashlane has launched the Dashlane Threat Center (DTC) with updates and resources for consumers.
Dashlane.com/ThreatCenter
In the aftermath of Heartbleed there was an overabundance of misinformation and bad advice that confused consumers and froze them into inaction, or worse, into taking dangerous steps that amplified their risk of exposure.
The Dashlane Threat Center will simplify the complicated world of online security issues by providing simple, constantly updated and actionable steps the average Internet user will understand and can use to protect their identities and financial data. The DTC is the place where consumers should go to answer basic questions like 'What is the threat?" "How am I affected?" and "What should I do?"
This latest OpenSSL vulnerability, discovered a mere 60 days after Heartbleed, has been around for at least 15 years and affects all versions of OpenSSL (two-thirds of the world's websites). While it is not believed to be as serious as Heartbleed, a sense of "calm after Heartbleed" complacency could actually magnify the severity of this bug as fewer sites take the requisite precautionary measures.
The greatest danger in the latest bug is a "Man-in-the-Middle" attack whereby an attacker can inject himself into an unencrypted network, for instance a public wi-fi network, and intercept all messages and data going between two parties.
The DTC features an infographic which illustrates how such an attack can happen and what basic steps consumers can take to protect themselves. It also provides an interactive checker that consumers can use to determine which devices and sites are potentially affected.
Dashlane CEO Emmanuel Schalit states," At Dashlane, we pride ourselves in providing simple solutions to identity problems. Internet users are often intimidated and confused by technical terminology and we designed the DTC to provide accurate information that can be understood by everyone, regardless of technical know-how. We know for a fact that this will not be the last major breach and we have seen in our Q2 security roundup that even major websites sometimes ignore basic security practices. While there is no way to ever have perfect protection, we want to provide consumers with simple tools they can use to limit their exposure."
For more information please visit the Dashlane Threat Center:
Dashlane.com/ThreatCenter
###