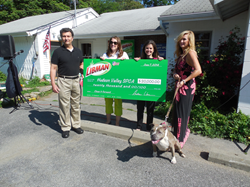 "Winning the Libman 'Clean it Forward' contest will go a long way toward helping us with our fire recovery." -Heather Hallack, treasurer of the Hudson Valley SPCA
Arcola, IL (PRWEB) June 10, 2014
Over the weekend, The Hudson Valley SPCA (HVSPCA ), a New Windsor animal shelter recently damaged by a fire that killed and injured several animals, was greeted by The Libman Company with a $20,000 check and a smiling cleaning crew ready to give the shelter a good scrubbing using an array of Libman cleaning products.
The HVSPCA received the most online votes to win the grand prize of $20,000 and a clean-up project worth $5,000 in the Libman "Clean It Forward" contest. The HVSPCA edged out four other non-profit organizations across the country with the most votes during the contest's final phase and online voting period held in April.
"Winning the 'Clean it Forward' contest will go a long way toward helping us with our fire recovery," said Heather Hallack, treasurer of the organization. "We cannot thank Libman enough. And of course we owe a debt of gratitude to those that nominated and supported us," Hallack added.
"We couldn't be happier that we were able to do this for the Hudson Valley SPCA," said Erin Favot, marketing manager for Libman. "Everyone here – from the board members to the employees and volunteers – is incredible. They are all very passionate about what they do and that shines through," added Favot.
Saturday's activities included a check presentation ceremony attended by HVSPCA board members, city council leaders, donors and volunteers. Afterward, a team of Libman Grime Fighters began their all-day cleaning session which included sweeping and scrubbing kennel cages as well as the facility's offices.
The "Clean it Forward" contest was created as a way for The Libman Company, a 118-year old American manufacturer of cleaning products, to give back to its customers and those organizations that serve as the backbone of their communities.
"This contest and sweepstakes are really a tribute to our customers and those organizations all over America that work so tirelessly to help make their communities a better place," said Andrew Libman, one of the fourth-generation Libman Company leaders.
"It was wonderful to see how the contest elicited such an outpouring of support for so many organizations throughout the country. It really demonstrates Americans' generous spirit of giving and community support," said Libman. He added that over 30,000 votes were cast among the five deserving organizations.
The four other finalists in the contest were the Milwaukee Veteran's Initiative (Milwaukee, WI), the Harrison County Boys & Girls Club (Corydon, IN), the Free Clinics of Iowa (Des Moines, Iowa), and Huckleberry House (Columbus, Ohio).
About The Libman Company
The Libman Company is a family-owned company that has been making quality cleaning tools since 1896. The company manufactures products from brooms and mops to more specialized tools for kitchen and bathroom cleaning and industrial uses. Libman proudly manufactures most of their products in the United States, including the company's well-known Wonder® Mop. For more information about the Libman Company, please visit http://www.libman.com.