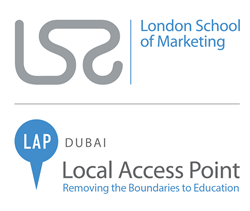 Dubai, United Arab Emirates (PRWEB UK) 6 June 2014
London School of Marketing (LSM), a leading institution offering accredited marketing and business qualifications in the heart of London, has announced their partnership with Manchester Management Training (MMT), one of the fastest growing premier education specialists and progressive institutions of academic excellence in the Middle East. This partnership represents a unique opportunity for MMT to significantly expand its portfolio and enhance its credibility as a provider of reputable UK qualifications.
"With IT driven education as one of our core competencies, and considering that international students are finding it increasingly difficult to obtain a visa to travel to the UK to study, we have set up Local Access Points (LAPs) around the world. This means we can take our qualifications to students instead of expecting them to travel to us," stated Anton Dominique, COO/CFO of London School of Marketing. "We are pleased to welcome Manchester Management Training as our newest Local Access Point and are confident that they will join us in educating and empowering students."
Currently, MMT offers a wide range of globally certified courses to professionals who are aspiring to enhance their career. With their state-of-the-art infrastructure, integrated with robust virtual and blended learning platforms, MMT reaches a diverse and vibrant expat population who are pursuing higher education in the UAE and beyond.
An associate college of Anglia Ruskin University, LSM offers academic and professional courses in business and marketing, validated and approved by industry leading professional bodies including The Chartered Institute of Marketing, Communication, Advertising, Marketing Foundation and the Digital Marketing Institute. LAP courses offered through MMT include MBA (Top up), BA Honours in Marketing (Top up), MA in Marketing in Innovation (Top up), EduQual Extended Postgraduate Diploma in Business Management, EduQual Extended Postgraduate Diploma in Business and Marketing Strategy and EduQual Extended Advanced Diploma in Business and Marketing Management.
"MMT now offer bachelor degree and MBA programmes to students in this region, conducted in association with LSM, and delivered through our award winning Integrated Modular Study System. This system allows students to access all course materials, lecture notes, case studies and practical applications, as well as regular online webinars, delivered directly from London," explained Dominique. "Meanwhile, MMT provide local onsite support, assistance and guidance to the students. They also draw on a deep pool of faculty members from various parts of the world who are industry experts and proven leaders in their respective domains of expertise."
Click here to read more about this partnership.
London School of Marketing delivers accredited marketing and business qualifications, and offers courses from recognised professional bodies such as CIM and CAM, BA (Hons) Marketing, MA Marketing and Innovation, and an MBA from Anglia Ruskin University. Based in Central London, it is a QAA approved institution and holds Highly Trusted Status with the UKBA. The school also has offices in Sri Lanka, a network of Local Access Points (LAPs) and online programmes of learning. Courses are run over a broad range of study modes. Further details are available at: http://www.londonschoolofmarketing.com.